Slow-Cooked Lamb
Winter 2004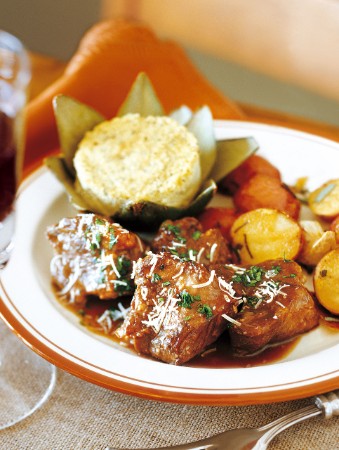 Slow-Cooked Lamb
Winter 2004
BY: Lucy Waverman
This recipe is a superior example of the new respect for slow cooking. The meat is juicy and the sauce is rich. This dish reheats very well covered at 350°F (180°C) for 20 minutes or until hot. Serve with artichoke flans and roasted red potatoes (recipes follow). Boned lamb shoulder can be difficult to find although butchers will get it for you. You can also make this dish with boned leg but it may be a bit drier.
3 lbs (1.5 kg) boned lamb shoulder
1 tbsp (15 mL) chopped fresh rosemary
1 tbsp (15 mL) chopped garlic
1/4 cup (50 mL) olive oil
Salt and freshly ground pepper
1 cup (250 mL) chopped onion
1/2 cup (125 mL) red wine
1 cup (250 mL) beef or chicken stock
3/4 cup (175 mL) grated Parmesan cheese
2 tbsp (25 mL) chopped parsley
1. Cut lamb shoulder into 2-inch (5-cm) pieces. Place in dish and toss with rosemary, garlic  and 2 tbsp (25 mL) olive oil. Refrigerate for 24 hours, turning occasionally.
2. Preheat oven to 325°F (160°C).
3. Scrape off the marinade and discard. Season lamb with salt and pepper. Heat remaining 2 tbsp (25 mL) oil in an ovenproof casserole on high heat. Brown lamb in batches about minutes per side or until a good rich brown colour. Remove to plate and reserve.
4. Reduce heat to medium and add onion. Sauté for 1 minute, pour in wine, bring to boil and boil 1 minute. Add stock and stir everything together. Return lamb to casserole, cover and bake for 1 hour and 15 minutes. Remove cover and continue to bake another 45 minutes or until meat is tender and glazed with sauce. If sauce reduces too much add a little water.
5. Remove lamb from sauce. Skim fat from sauce and strain. Return liquid to casserole, along with lamb. Taste sauce for seasoning, adding salt and pepper as needed.
6. Serve lamb on plate with a little sauce and sprinkled with Parmesan cheese and parsley.

Artichoke Flans
4 cooked artichokes
1 cup (250 mL) whipping cream
2 egg yolks
2 eggs
½ cup (125 mL) grated Asiago cheese
2 tbsp (25 mL) chopped fresh parsley
Salt and freshly ground pepper
Extra virgin olive oil
1. Preheat oven to 400°F (200°C).

2. Place artichokes, cream, egg yolks, eggs, cheese, parsley, salt and pepper in food processor and process until smooth. Brush moulds about 1/3 cup (75 mL) in size, or mini muffin pans, with olive oil. Line moulds with upside-down artichoke petals, if you wish. Season well. Pack in artichoke mixture.

3. Place moulds in pan of boiling water - the water should come halfway up the sides of the moulds. Place in oven and bake for 30 to 35 minutes or until puffed and golden. Remove from oven, discard pan of water, and let flans cool 5 minutes. Run knife around edge to loosen and turn out onto plates.



Makes six 1/3 cup (75 mL) flans

Roasted Red Potatoes
2 lbs (1 kg) mini red potatoes, cut in half
3 tbsp (45 mL) olive oil
2 tbsp (25 mL) fresh sage leaves, chopped
Salt and freshly ground pepper
2 large garlic cloves, unpeeled, root end removed
1. Preheat oven to 400°F (200°C).
2. In a bowl, toss potatoes with oil, sage, salt and pepper. Place cut-side down in roasting pan and cover pan with foil.
3. Roast covered for 30 minutes, toss and add garlic cloves. Return to oven and roast uncovered for 30 minutes longer or until potatoes are tender and browned and garlic has softened. Squeeze garlic from skin before serving.
SHARE