Slow-Cooked Chickpeas with Spicy Peppers and Arugula
Temps des Fêtes 2013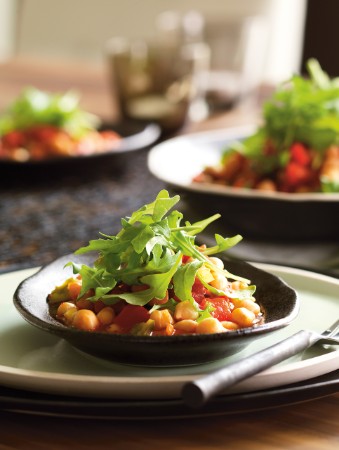 Slow-Cooked Chickpeas with Spicy Peppers and Arugula
Temps des Fêtes 2013
BY: Lucy Waverman
This dish is rich and delicious. The recipe calls for four different types of peppers, which gives depth to the taste, but feel free to use whatever you can find. You may also substitute 2 tsp (10 mL) cayenne for the peppers. While it doesn't produce the same flavour, the cayenne gives this dish a real kick. Bitter and peppery, the arugula adds a fine contrast. Poblano peppers have a little kick to them—but nothing overwhelming.
CHICKPEAS
1 cup (250 mL) dried chickpeas, soaked overnight
6 cups (1.5 L) water
1 cup (250 mL) canned tomatoes (preferably San Marzano), chopped
2 tbsp (30 mL) chopped parsley
2 tsp (10 mL) chopped fresh thyme
2 tbsp (30 mL) extra virgin olive oil
1 red pepper, ribs removed, cut in ½ inch (1 cm) dice
1 poblano pepper, seeded, chopped, cut in ½ inch (1 cm) dice
1 long red chili pepper, seeded, chopped, cut in ¼ inch (5 mm) dice
1 banana pepper, seeded, chopped, cut in ¼ inch (5 mm) dice
4 cloves garlic, peeled and thinly sliced
½ tsp (2 mL) Espelette pepper or chili flakes
Salt and freshly ground pepper

GARNISH
2 cups (500 mL) baby arugula, washed and picked
1 Drain and rinse chickpeas. Combine with 6œcups (1.5 L) water, tomatoes, parsley and thyme in a pot. Bring to a boil, then reduce heat to low and slowly simmer, covered, for 1 hour to 1¼ hours, or until chickpeas are tender. Drain and set aside, reserving liquid separately.

2 Heat oil in a skillet over medium-high heat. Add red pepper, poblano, red chili and banana peppers and sauté for 3 to 4 minutes or until softened. Add garlic and Espelette pepper and cook until garlic is lightly browned, about 1 minute longer.

3 Add chickpeas and sauté for 2 to 3 minutes or until chickpeas are coated with oil and have absorbed the flavour of the peppers. Pour in reserved cooking liquid and bring to a boil. Reduce heat to medium-low and simmer for 10 to 20 minutes, or until liquid is thickened but still saucy. Season with salt and pepper.

4 Place beans and peppers in serving dish. Top with arugula.
SHARE