Slow-Cooked Beef Short Ribs
Spring 2016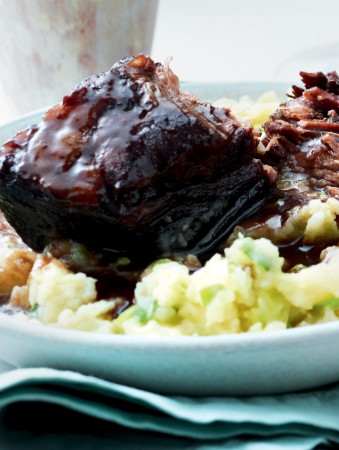 Slow-Cooked Beef Short Ribs
Spring 2016
BY: Lucy Waverman
Moy House is one of these perfect places to stay, a luxurious country house that radiates charm and elegant comfort. It is on the sea coast with wonderful views and is close to several exceptional golf courses. The two chefs are outstanding and the food from breakfast through dinner is superb. Both chefs also work as farmers, and all the produce, fish and meats are from the area. They make everything themselves including the breads and rolls and relishes. These short ribs are slightly adapted from their original recipe.
4 English-style (on the bone) short ribs, about 9 oz (275 g) each
3 medium onions, sliced
4 carrots, peeled and roughly chopped
2 celery sticks, roughly chopped
1 head of garlic, sliced in half widthwise
2 thyme sprigs
2 rosemary sprigs
1 bottle red wine
Salt and freshly ground pepper
¼ cup (60 mL) vegetable oil
3 cups (750 mL) chicken stock
1 tsp (5 mL) cornstarch
1 tbsp (15 mL) water
1 Place short ribs in a casserole dish. Add onions, carrots, celery and garlic. Scatter herbs over beef. Add wine. Cover and refrigerate for 12 hours or overnight.

2 Preheat oven to 225°F (110°C).

3 Remove beef from marinade and set both aside. Strain vegetables and wine and reserve both separately. Pat meat dry then season with salt and pepper.

4 Heat a large pan over high heat and add 2 tbsp (30 mL) oil. Add meat, fat-side down, and brown well, about 2 minutes. Turn over and brown for 2 more minutes. Transfer to ovenproof casserole. Add vegetables and herbs to pan. Sear until a golden brown, about 6 minutes. Add to dish with meat. Pour chicken stock and reserved wine over meat. Cover with a sheet of parchment paper and then a lid. Bake for 4 hours or until meat is very tender.

5 Cool and then remove meat to a baking sheet. Pull out the bones and discard. Using a sharp knife, remove the membrane from the bone side of the meat. Place a sheet of parchment paper over meat and then another baking sheet. Place a couple of tin cans on top. Refrigerate for 2 hours or until meat is firm. Refrigerate sauce for 2 hours or until the fat has solidified on the top of the sauce.

6 Skim fat from the sauce and discard. Strain the sauce and discard vegetables. Pour sauce into a pot over high heat. Bring to a boil, then reduce heat and simmer until slightly thickened and reduced to 1½ cups (375 mL), about 25 to 30 minutes. In a separate dish, stir cornstarch with cold water, and then mix into simmering sauce. Allow to come to a boil to thicken, then remove from heat. Taste for seasoning.

7 Preheat oven to 400°F (200°C). Heat remaining 2 tbsp (30 mL) vegetable oil in a skillet over high heat and sear the meat on all sides for 2 minutes each side or until deep brown. Transfer to oven for 10 to 15 minutes or until heated through.

8 Reheat sauce. Place meat on a serving dish and coat with sauce. Serve with Colcannon (recipe follows).

COLCANNON

This cabbage and potato recipe is a traditional Irish dish. The more butter you use, the better the dish. This is the Moy House version.

2 lbs (1 kg) Savoy cabbage or kale, coarsely chopped
2 lbs (1 kg) floury potatoes such as Yukon Gold, peeled and cut into 2 inch (5 cm) chunks
1 cup (250 mL) milk or cream
1 cup (250 mL) finely chopped green onions
½ cup (125 mL) butter
Salt and freshly ground pepper
1 Bring a pot of salted water to boil and add the cabbage. Simmer for 10 to 15 minutes or until soft. If using kale, it may take less time. Drain well. Finely chop or pulse in a food processor. Reserve.

2 Add potatoes to a pot of cold salted water. Bring to boil and boil until tender, about 20 to 25 minutes. Drain well and return to pot to dry off over turned-off heat. Mash potatoes.

3 Heat milk or cream with green onions and butter over medium heat until melted. Stir into mashed potatoes. Stir in chopped cabbage. Season with salt and pepper.
SHARE