Slow Roasted King Mushrooms and Tomatoes with Dandelion Pesto on Garlic Crostini
Spring 2009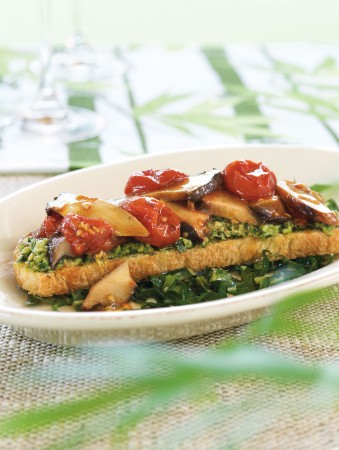 Slow Roasted King Mushrooms and Tomatoes with Dandelion Pesto on Garlic Crostini
Spring 2009
BY: Lucy Waverman
The best dandelions to use for this recipe are the young ones found at organic food stores and farmer's markets, as they are not too tart. Older leaves are much tangier than younger leaves. If you can't find young leaves, the recipe will work with older ones but will have a sharper taste. This recipe makes more pesto than you need, but you will find lots of uses for it. Toss with pasta, spread on sandwiches or beat into mashed potatoes. It will keep in the fridge for up to 2 weeks. We tried several different breads for the crostini—the olive bread and focaccia were our favourites.
Garlic Crostini
4 slices olive or focaccia bread, 1⁄2 inch (1 cm) thick
1 tbsp (15 mL) olive oil
1 clove garlic, halved

Mushrooms
1 lb (500 g) king mushrooms
2 cups (500 mL) cherry tomatoes sliced in half
1⁄4 cup (50 mL) olive oil
2 tbsp (25 mL) balsamic vinegar
1 tbsp (15 mL) Dijon mustard
1 tsp (5 mL) chopped garlic
1 tsp (5 mL) chopped fresh thyme
Salt and freshly ground pepper

Dandelion Pesto
3 cups (750 mL) packed chopped dandelion leaves
1 tsp (5 mL) chopped garlic
1⁄2 cup (125 mL) slivered almonds
1⁄2 cup (125 mL) olive oil
1⁄2 cup (125 mL) goat cheese

Garnish
2 cups (500 mL) dandelion leaves, thinly sliced
1 tbsp (15 mL) extra virgin olive oil
Maldon salt
1. Preheat oven to 350°F (180°C).

2. Brush bread with olive oil and bake for 15 minutes, turning once, or until golden. Rub with cut side of a garlic clove. Reserve.

3. Reduce oven to 300°F (150°C).

4. Trim ends of mushrooms and place in a bowl with cherry tomatoes.

5. Combine oil, vinegar, mustard and garlic. Stir in thyme. Season with salt and pepper.

6. Toss mushrooms and cherry tomatoes with the dressing. Lay mixture on baking sheet and roast for about 45 minutes or until tender. Cool. Slice mushrooms and toss with tomatoes.

7. Combine dandelion leaves, garlic, almonds and olive oil in food processor. Add goat cheese and pulse together until goat cheese is absorbed. Season with salt and pepper to taste. Mixture should be soft.

8. Spread bread slices with pesto. Place on serving plates. Top with mushrooms and tomatoes. Garnish the whole plate with sliced dandelion leaves drizzled with olive oil. Sprinkle a little Maldon salt on each plate.
SHARE