Sloppy Rendang Joes
Summer 2014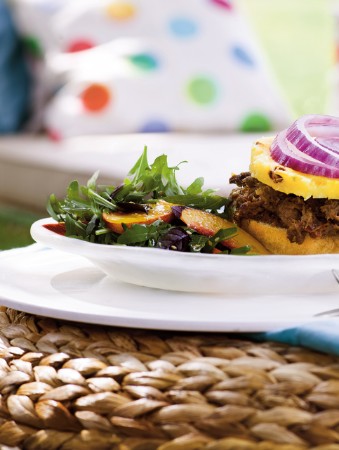 Sloppy Rendang Joes
Summer 2014
BY: Christopher St. Onge
The Malaysian coconut curry at the heart of this sandwich cooks slowly until almost dry. In the final hour, the remaining fats and sugars begin a sort of magical alchemy as the colour changes from pale and milky to a dark rich brown and the flavour takes on added complexity while everything slowly caramelizes. It can be made up to a week in advance and refrigerated—if doing so, add the final ½ cup (125 mL) water and lime leaves while reheating on the stovetop. Galangal is a rhizome similar to ginger root and is available at Asian grocers; if unavailable, simply double the amount of ginger.
CURRY PASTE
5 stalks lemon-grass
2 tbsp (30 mL) tamarind paste
½ cup (125 mL) hot water
3 shallots, peeled and coarsely chopped
8 to 15 dried red chilies, or3 to 6 tsp (15 to 30 mL) dried chili flakes
1 tsp (5 mL) freshly ground nutmeg
¼ tsp (1 mL) ground cloves
1 piece ginger, 2 inches (5 cm) long, peeled and roughly chopped
1 piece galangal, 2 inches (5 cm) long, peeled and roughly chopped
8 makrut limes leaves, roughly chopped
4 cloves garlic, peeled
2½ tsp (12 mL) salt
1 tbsp (15 mL) palm, or brown, sugar

3 lb (1.5 kg) chuck roast, cut into1-inch (2.5-cm) chunks
1 cinnamon stick, 6 inches (15 cm) long
2 cans (each 398 mL) coconut milk
2½ cups (625 mL) water, divided
½ cup (125 mL) desiccated unsweetened coconut, toasted (optional—see TIP below)
6 makrut lime leaves, finely chopped
8 soft white buns, split
8 pineapple slices, peeled and cored, each ½ inch (1 cm) thick
8 large slices red onion, each¼ inch (5 mm) thick
1 For the curry paste, trim the lemon-grasss talks of all but the widest 3-inch (8-cm) portions. Remove dry outer leaves and crush each stalk with the side of a large knife; finely slice and add to blender. Place tamarind paste in a small bowl and pour hot water over. Using a fork, mash to dissolve paste; strain through a fine mesh sieve into blender and discard seeds if any. Add remaining curry paste ingredients to blender and pulse to a coarse paste.

2 In a large non-reactive bowl, toss beef with curry paste, cover and refrigerate for 2 hours or overnight.

3 Turn beef mixture out into a large pot. Stir in cinnamon stick, coconut milk, 2 cups (500 mL) water and toasted coconut (if using); bring to a simmer over medium heat, reduce to medium low and cook, uncovered, for 2 to 2½ hours or until most of the liquid has evaporated.

4 Reduce heat to low and cook, stirring every 8 to 10 minutes, for an additional 1 hour or until curry has changed colour to a deep brown.

5 When ready to assemble sandwiches, stir in remaining ½ cup (125 mL) water and finely chopped lime leaves; reheat if necessary. Pilecurry onto bottom buns and top each with a slice of pineapple and red onion, and bun tops.

TIP To toast desiccated coconut, spread out on a baking sheet in an even layer and bake in a 350°F (180°C) oven for 6 to 7 minutes or until golden.
SHARE