Slippery Slugs On Tomatoes
Automne 2008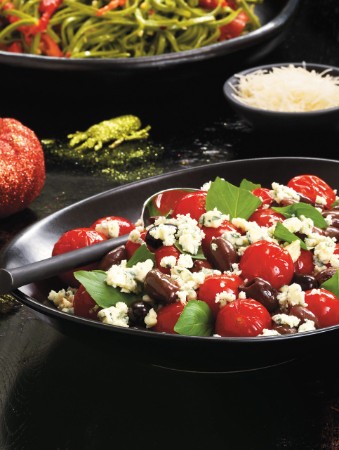 Slippery Slugs On Tomatoes
Automne 2008
BY: Jennifer MacKenzie
Black slugs crawling over slightly softened cherry tomatoes are sure to gross-out even the hardiest ghosts and goblins. Pan-roasting tomatoes brings out their sweet flavour and when accented by the salt and tang of black olives and a bit of blue cheese the taste comes alive. Pitted black olives look more like slugs but those with pits will work as well. These make a wonderful side dish any time of year, though you may want to improve the image with a title change to Pan-Roasted Cherry Tomatoes and Olives.
3 cups (750 mL) firm ripe cherry tomatoes (about 24)
1 tbsp (15 mL) olive oil
Pinch of salt
¼ tsp (1 mL) freshly ground pepper
⅓ cup (75 mL) drained black olives
2 tbsp (25 mL) balsamic vinegar
2 tbsp (25 mL) shredded basil leaves or spinach
¼ cup (50 mL) crumbled blue cheese
1. Pierce each tomato once with the tip of a sharp knife or a toothpick (this prevents them from bursting).

2. Heat oil over high heat in a heavy skillet until hot but not smoking. Add tomatoes, salt and pepper and sauté, shaking pan often, for about 3 minutes until tomatoes start to brown and are slightly softened.

3. Add olives and vinegar to pan and sauté, stirring gently, for about 2 minutes or until tomatoes are coated and olives are heated. Spoon into a warmed serving dish and sprinkled with basil and blue cheese.
SHARE