Skillet Cheeseburger Pizza
Holiday 2015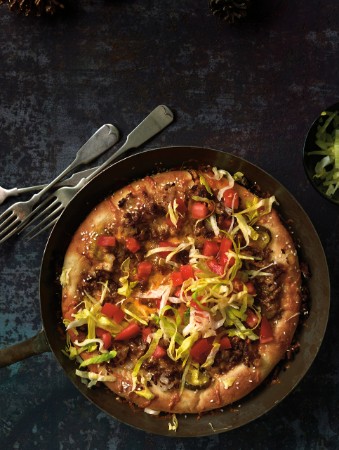 Skillet Cheeseburger Pizza
Holiday 2015
BY: Amy Rosen
I don't want to oversell it, but this recipe will be my legacy. Seriously though, the genius move here besides the special sauce and sesame seeds on the crust are the warm pickles, which I personally see as the Big Mac's calling card. Baked with seasoned beef and sharp cheddar, and topped with cool chopped lettuce and tomatoes before being brought to the table. As always, smiles are free.
1 tbsp (15 mL) plus 2 tsp (10 mL) olive oil
8 oz (250 g) lean ground beef
1 garlic clove, minced
1 small cooking onion, diced
1/4 tsp (1 mL) salt
1/4 tsp (1 mL) black pepper
2 tbsp (30 mL) mayonnaise
2 tsp (10 mL) ketchup
2 tsp (10 mL) relish
Half a 1 lb (500-g) ball raw pizza dough (about ½ lb or 250 g), find it in the bakery section at the supermarket, room temperature
1 tsp (5 mL) sesame seeds
1 large sour dill pickle, sliced
1 cup (250 mL) sharp cheddar cheese, shredded
2 cups (500 mL) iceberg lettuce, shredded
1 medium tomato, cored and diced
1. Preheat oven to 450°F (230°C).

2. In a frying pan over medium heat, heat 1 tbsp (15 mL) oil and add ground beef, garlic, onion, salt and pepper. Cook, stirring often, for 5 to 7 minutes, or until juices run clear. Drain off any liquid, set aside.

3. In a small bowl, mix together mayonnaise with ketchup and relish. This is your "special sauce."

4. Oil an 8-inch (20-cm) cast iron skillet with remaining 2 tsp (10 mL) of olive oil. Roll dough out to about a 10-inch (25-cm) round on a lightly floured surface and transfer to skillet. Flip dough over in skillet so that both sides of dough are oiled. Sprinkle with sesame seeds and gently press dough evenly in skillet so that it rises slightly up the sides of the pan. Bake in preheated oven for 5 minutes.

5. Remove par-baked pizza from oven and spread with "special sauce." Top evenly with sliced pickle, ground beef and finally, shredded cheddar.

6. Bake for 15 minutes more, or until pizza is cooked through and cheese is melted and slightly browned. Run a knife around the edges of skillet to be sure it's not sticking. Top with cool shredded lettuce and chopped tomato. Slice and serve at once.


SHARE