Sizzling Spiced Shrimp Skewers with Caramelized Pineapple Salsa
Temps des Fêtes 2012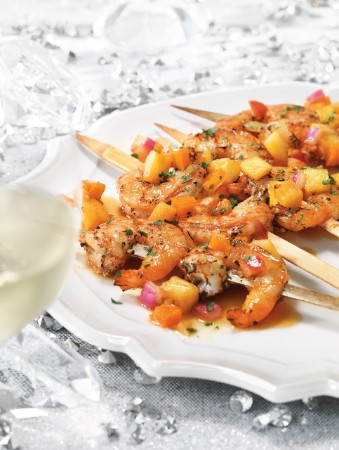 Sizzling Spiced Shrimp Skewers with Caramelized Pineapple Salsa
Temps des Fêtes 2012
BY: Jennifer MacKenzie
A caramel-and-lime-marinated salsa accompanying spicy broiled shrimp on skewers take perennial favourite shrimp appetizers to a whole new level. Use 12 small flat bamboo skewers, soaked in water (avoid round ones since they cause the shrimp to flip around). If you prefer, use sweet mango instead of the pineapple for the salsa, or use a mixture of the two.
SALSA
¼ cup (60 mL) granulated sugar
1/3 cup (80 mL) fresh lime juice
1½ cups (375 mL) diced fresh pineapple
½ cup (125 mL) diced sweet orange pepper
2 tbsp (30 mL) diced red onion
½ jalapeño or other hot pepper, minced
Salt and freshly ground pepper

SHRIMP
24 large shrimp, peeled and deveined
2 cloves garlic, minced
2 tsp (10 mL) minced fresh thyme
½ tsp (2 mL) cayenne pepper
1/8 tsp (0.5 mL) ground allspice
1 To make the salsa: in a small saucepan over medium-low heat, gently heat sugar and lime juice, stirring until dissolved. Increase heat to medium and bring to gentle boil. Cook until liquid turns a deep caramel colour. Remove from heat and let cool just until bubbles subside.

2 Meanwhile, combine pineapple, orange pepper, onion, jalapeño, ¼ tsp (1 mL) salt, and pepper to taste, in a heatproof bowl. Pour sugar mixture into bowl and toss gently to coat; the caramel will harden but will melt again. Cover and refrigerate for at least 1 hour or until caramel is melted or for up to 8 hours. Let warm to room temperature before serving. Season with more salt to taste.

3 For the shrimp, combine shrimp, garlic, thyme, cayenne pepper and allspice in a bowl, tossing to coat shrimp evenly. Cover and refrigerate for at least 30 minutes or for up to 8 hours.

4 Preheat broiler with rack 4 inches (10-cm) from heat and line a baking sheet with foil, then oil foil.

5 Thread 2 shrimp on each skewer and place on baking sheet. Broil, turning once, for 2 to 3 minutes or until shrimp are pink and opaque. Serve skewers on small plates or a platter with salsa, spooning some over shrimp.
SHARE