Sizzling Shrimp Cocktail
Holiday 2016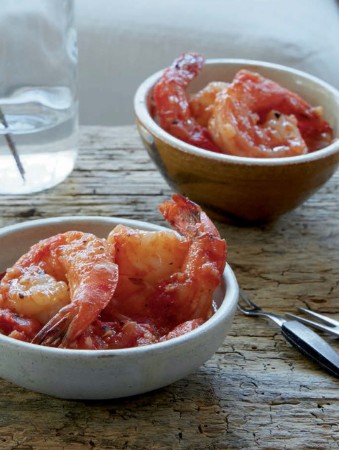 Sizzling Shrimp Cocktail
Holiday 2016
BY: Jennifer MacKenzie
Give the ubiquitous holiday shrimp appetizer some sizzle this season with firm, sweet shrimp bathed in a zesty, warm cocktail sauce served in individual portions. They are best when cooked just before serving (and the aroma wafting through the kitchen is a bonus!) but can be made ahead and chilled if that better suits your dinner plans. Get creative with your serving presentation: set out a board or platter of shrimp in individual ramekins, small shot glasses or small pottery bowls with short flat skewers, cocktail forks or toothpicks. Be sure to set out a bowl for the used skewers and tail shells
1 lb (500 g) extra jumbo or jumbo shrimp (16/20 or 21/25 size), thawed
2 tbsp (30 mL) butter
1 tbsp (15 mL) olive oil
3 cloves garlic, halved lengthwise and smashed
4 plum tomatoes, seeded and diced
Salt and freshly ground pepper
2 tbsp (30 mL) prepared horseradish
2 tbsp (30 mL) fresh lemon juice
1 Peel shrimp, leaving tails attached, if desired. Pat dry.

2 In a large skillet, warm butter, oil and garlic over low heat until starting to sizzle and garlic is fragrant. Use a slotted spoon to transfer garlic to a cutting board; set aside.

3 Increase heat to high and add half of the shrimp to skillet in a single layer. Cook, turning once, for 10 to 15 seconds per side or just until starting to turn pink. Transfer to a bowl and repeat with remaining shrimp. Reserve skillet.

4 Mince reserved garlic. Return skillet to medium-high heat and add tomatoes, garlic, ½ tsp (2 mL) salt, and pepper to taste. Cook, stirring often, for about 10 minutes until soft and a thick sauce forms. Stir in horseradish and lemon juice and bring to a boil. Season to taste with salt and pepper.

5 Return shrimp and any accumulated juices to pan and heat, gently stirring, for 1 to 2 minutes or until shrimp are sizzling hot and just firm. Divide shrimp and sauce among individual serving dishes and serve.
SHARE