Singapore Noodles
Automne 2013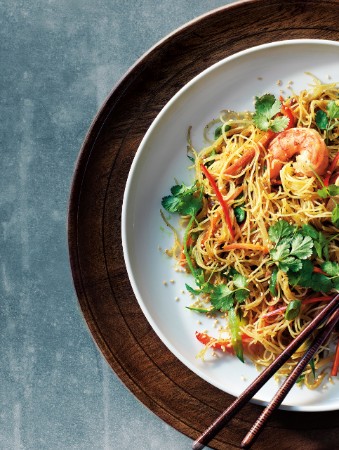 Singapore Noodles
Automne 2013
BY: Hawker Bar
Malaysian cooking is the epitome of global cuisine. With influences from India, China and Thailand, Malaysian food is extraordinarily diverse. The following recipe from Hawker Bar in Toronto (operated by friends Andrew Mistry, Casmir Alyea and Frederic and Nicholas Laliberte) features a mix of Asian condiments intermingled with Indian curry powder. The sauce has a real kick to it and the dish will satisfy all your taste buds. Make 2 servings of noodles at a time to make sure the wok stays hot.
NOODLES
1 pkg (300 g) vermicelli rice noodles
1 tbsp (15 mL) vegetable oil

VEGETABLES
1 red pepper, seeded, cut in julienne strips
1 medium carrot, cut in julienne strips
⅔ cup (150 g) snow peas, cut in julienne strips
8 green onion stalks, thinly sliced
6 oz (175 g) bean sprouts
12 oz (375 g) tiger shrimp, peeled and deveined, tails removed
1 chicken breast, 8 oz (250 g), thinly sliced
¼ cup (60 mL) vegetable oil, divided
1 cup (250 mL) Hawker Bar Singapore Noodle Sauce (recipe below)
1 Thai long red chili, sliced
2 tsp (10 mL) toasted sesame seeds
¼ cup (60 mL) fresh coriander leaves
1 Pour boiling hot water over vermicelli and let soak for 3 minutes. Strain, then chill under running cold water. Toss with vegetable oil, divide in half and reserve.

2 Divide all vegetables in half and reserve.

3 Slice shrimp in half lengthwise. Divide shrimp and chicken in half and reserve.

4 Heat wok to smoking temperature on high and add 2 tbsp (30 mL) vegetable oil. Add half of chicken immediately and toss until white, about 1 minute. Add half of the shrimp and vegetables, continuing to toss. Add ½ cup (125 mL) of noodle sauce and half of cooked noodles, tossing until mixture coats the noodles. Transfer to a platter.

5 Return wok to heat and add remaining oil. Repeat with second batch of ingredients.

6 Garnish with finely sliced Thai long red chili, toasted sesame seeds and fresh coriander.

HAWKER BAR SINGAPORE NOODLE SAUCE

Although Chef Alec Martin of Hawker Bar makes it in single portions, I found that doubling the recipe worked better for serving it at home. This dish cooks so quickly that even the most impatient dinner guests will be satisfied. All ingredients are available at Asian grocery stores. If you do not have a store near you then shop online. Brown sugar could be substituted for palm sugar and if coconut cream is not available reduce a can of coconut milk until thick.

2 tbsp (30 mL) vegetable oil
1 cup (250 mL) finely chopped shallots, about 6
⅓ cup (80 mL) finely chopped garlic, about 10 cloves
¼ cup (60 mL) finely chopped ginger
1 fresh Thai long red chili, seeded, sliced
¼ cup (60 mL) grated palm sugar
5 tbsp (75 mL) fish sauce
3 tbsp (45 mL) coconut cream
3 tbsp (45 mL) soy sauce
1 tbsp (15 mL) oyster sauce
1 tbsp (15 mL) sweet soy sauce
1 tsp (5 mL) sesame oil
3 to 4 tbsp (45 to 60 mL) curry powder
¼ cup (60 mL) chicken stock or vegetable stock
½ tsp (2 mL) turmeric powder
1 Heat oil in a medium pot over medium heat. Add shallots, garlic, ginger and chili and cook for 5 minutes, or until vegetables are tender. Add palm sugar and 3 tbsp (45 mL) fish sauce. Increase heat to medium-high and cook until all the liquid has evaporated, about 5 minutes.

2 A dd remaining fish sauce, coconut cream, soy sauce, oyster sauce, sweet soy and sesame oil. Reduce heat and simmer for 3 minutes or until flavours have combined.

3 A dd curry powder, stock and turmeric and simmer for 3 more minutes, or until spices are cooked. Stir constantly so ingredients do not burn. Remove from heat and reserve sauce.
Makes about 2 cups (500 mL)
SHARE