Simple Summer Salad of Beans and Raw Sunchokes
Summer 2006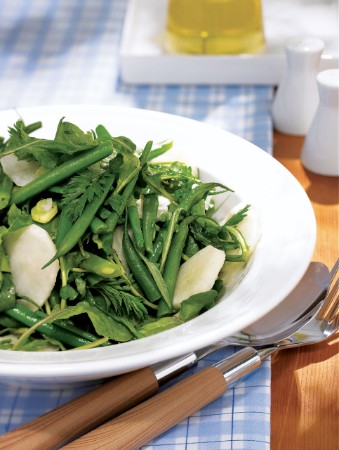 Simple Summer Salad of Beans and Raw Sunchokes
Summer 2006
BY: Michael Potters, Chef, Harvest Restaurant
Betty Chambers grows beautiful tiny haricots verts (thin green beans) in Prince Edward County that are meticulously harvested at just the right size. The crunchy addition of thinly sliced sunchokes (also called Jerusalem artichokes), freshly picked herbs and a simple dressing of olive oil and lemon make this a very special treat.
1 lb (500 g) haricots verts
Handful baby arugula leaves
¼ cup (50 mL) freshly picked garden herbs (chervil, chives, tarragon and lemon balm)
1 green onion, thinly sliced
½ lb(250 g) sunchokes
¼ cup (50 mL) extra virgin olive oil
1 tbsp (15 mL) lemon juice
Sea salt and freshly ground pepper
1. Bring a large pot of water to boil, add beans and cook for 2 to 3 minutes or until slightly crisp. Run under cold water until cold. Pat dry. Cut beans in half.

2. Combine beans, baby arugula, fresh herbs and sliced green onion in a small bowl.

3. Peel sunchokes and rinse in cold running water. Use a mandolin and thinly slice the raw, peeled sunchokes into the bowl with the beans. Alternatively, slice with knife as thinly as possible.

4. Add extra virgin olive oil and lemon juice. Toss well and season with sea salt and freshly ground pepper. Serve immediately.
SHARE