Side of Arctic Char with Mandarin Sauce & Crispy Leeks
Holiday 2014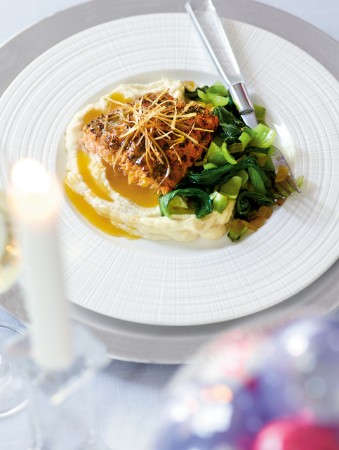 Side of Arctic Char with Mandarin Sauce & Crispy Leeks
Holiday 2014
BY: Christopher St. Onge
Each of the components for this visually stunning centrepiece to your meal can be made independently of the others, meaning when it comes time to eat, the fish simply needs to be slipped into the oven and the whole thing comes together in a flash.
LEEKS
1 leek
Vegetable oil for frying
Salt

MANDARIN SAUCE
3 tbsp (45 mL) butter, divided
2 shallots, thinly sliced
3 cloves garlic, thinly sliced
1½ cups (375 mL) mandarin orange juice (from approx. 4 to 5 mandarins)
Pinch salt
1 tbsp (15 mL) apple cider vinegar

ARCTIC CHAR
½ tsp (2 mL) salt
½ tsp (2 mL) freshly ground black pepper
2 tbsp (30 mL) finely chopped fresh oregano
1 tbsp (15 mL) dried oregano
½ tsp (2 mL) ground cumin
½ tsp (2 mL) ground ancho chili powder
1 side of arctic char, 2 lbs (1 kg) skin-on, pin bones removed
2 tbsp (30 mL) olive oil
1 To make the leek garnish, trim leek of roots and greens, leaving a 6-inch (15-cm) length of white and pale green only. Slice in half along the length and open up under cool running water to clean. Slice each piece in half lengthwise to create 4 pieces, each about 3 inches (8 cm) long. Working with one at a time, spread open and julienne; pat dry.

2 Heat a 2-inch (5-cm) depth of oil in a large saucepan to 350°F (180°C).

3 Fry leeks for 2 minutes or until golden and crisp; remove to a paper-towel-lined baking sheet. Season with salt while still warm; allow to cool (leeks may be made up to a week in advance and kept in an airtight container at room temperature).

4 For the mandarin sauce, melt 1 tbsp (15 mL) butter in a small saucepan over medium heat. Fry shallots until translucent, about 4 minutes. Add garlic to pan and cook 1 minute longer; pour mandarin juice over shallot mixture; add salt. Bring to a boil and reduce to ½ cup (125 mL), 10 to 12 minutes (if making ahead, cover and refrigerate after reduction until ready to continue); set aside.

5 To prepare the fish, preheat oven to 275°F (140°C).

6 For fish, combine salt, pepper, fresh and dried oregano, cumin and ancho chili in a small bowl. Place fish skin-side down on a parchment-lined baking sheet; brush with oil. Sprinkle spice mixture evenly over fish and roast for 23 minutes for medium.

7 While fish is cooking, finish the sauce. Use a slotted spoon to remove shallots and garlic from sauce and discard. Warm to a simmer over medium-low, and remove from heat. Add vinegar and whisk in remaining 2 tbsp (30 mL) butter.

8 Carefully transfer fish to a serving platter, nap with sauce, and arrange leeks over fish.
SHARE