Sichuan-Stuffed Eggplant
Automne 2016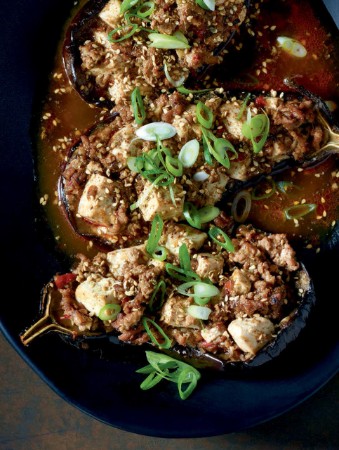 Sichuan-Stuffed Eggplant
Automne 2016
BY: Christopher St. Onge
Inspired by classic Sichuan ingredients, these spicy, velvety eggplants are delicious over chow mein noodles tossed with a little oil and garlic or plain steamed white rice. The chili bean sauce is sold in jars and is a spicy relative to miso—look for Lee Kum Kee brand. Fermented lack beans are the base for the more widely known black bean and garlic sauce; the loose beans are sold in plastic bags, jars and even cardboard cartons while Chinkiang vinegar is inexpensive and can be used to make sweet-and-sour-style stir-fries. All three are available from Chinese grocers.
3 small eggplants, each 10 to 12 oz (300 to 375 g)
¼ cup (60 mL) peanut or canola oil, divided
Salt
4 cloves garlic, finely chopped
2 tbsp (30 mL) finely chopped ginger
2 tbsp (30 mL) chili bean sauce (also labelled toban jiang)
1 tbsp (15 mL) rinsed and finely chopped fermented black beans
8 oz (250 g) lean ground pork or beef
½ cup (125 mL) chicken stock
2 tbsp (30 mL) Chinkiang or balsamic vinegar
1 tbsp (15 mL) Japanese soy sauce
2 tsp (10 mL) sugar
¼ cup (60 mL) water
1 tbsp (15 mL) cornstarch
1 lb (500 g) soft or silken tofu, drained and cut into ½ inch (1 cm) dice
2 tsp (10 mL) Sichuan peppercorns
1 tbsp (15 mL) toasted sesame seeds
1 tbsp (15 mL) chili oil (optional)
2 green onions, chopped
1 Preheat oven to 450°F (230°C).

2 Cut eggplants in half lengthwise through the stem. Arrange in a large roasting pan, cut-side up; brush exposed flesh with 3 tbsp (45 mL) oil and season generously with salt. Roast, uncovered, for 30 minutes.

3 Meanwhile, heat remaining 1 tbsp (15 mL) oil in a large skillet or wok over medium-high; fry garlic and ginger for 30 seconds or untilfragrant. Stir in chili bean sauce and black beans; fry another 30 seconds or until oil is red. Add pork and cook until no longer pink, breaking chunks apart with a fork. In a small bowl, whisk together chicken stock, vinegar, soy sauce, sugar, water and cornstarch. Pour into pan, stir and bring to a boil. Once thickened, add tofu and gently mix.

4 Reduce oven temperature to 375°F (190°C).

5 Using a large spoon, gently compress the interior of each eggplant half, creating a shallow well in the centre; divide tofu mixture between eggplants allowing sauce to flow over sides. Seal pan with foil and return to oven for another 60 to 75 minutes or until fork-tender.

6 While eggplant is cooking, pick over Sichuan peppercorns for any hard black seeds; discard seeds. Finely grind in a spice grinder and combine with sesame seeds.

7 Drizzle finished eggplants with chili oil if using, sprinkle peppercorn mixture overtop and garnish with green onions.
SHARE