Sichuan Eggplant
Holiday 2006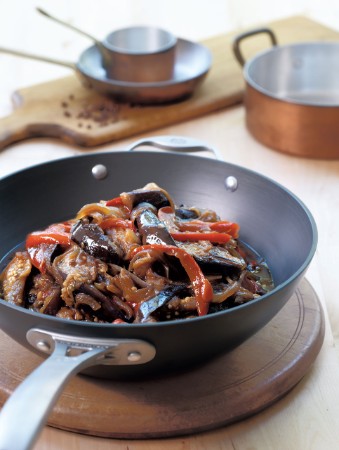 Sichuan Eggplant
Holiday 2006
BY: Lucy Waverman
I prefer to use the long Japanese eggplants in many dishes. They do not need to be salted beforehand, and they cook quickly. This dark, sensuous dish makes a sensational accompaniment for simply prepared fish or chicken. Sichuan peppercorns are a fragrant, flowery-tasting Asian spice available at Asian markets, but if you don't have them, just omit.
½ cup (125 mL) soy sauce
½ cup (125 mL) hoisin sauce
1 tbsp (15 mL) hot Asian chili sauce
¼ cup (50 mL) seasoned rice vinegar
¼ cup (50 mL) sake
2 tbsp (25 mL) chopped garlic
1 tsp (5 mL) Sichuan peppercorns, optional
3 Japanese eggplants
¼ cup (50 mL) vegetable oil
1 red pepper, thinly sliced
1 small onion, thinly sliced
2 tbsp (25 mL) chives or garlic chives
1. Combine soy sauce, hoisin, chili sauce, vinegar, sake, garlic and peppercorns in a bowl.

2. Cut each eggplant in half lengthwise, then cut each half into 4 pieces.

3. Heat a wok or large skillet over high heat. Add oil and heat. Add eggplants, red pepper and onion and stir-fry for 5 minutes.

4. Cover wok, reduce heat to medium-low and cook for 5 minutes, or until eggplant is soft.

5. Add soy sauce mixture, increase heat to medium and simmer, uncovered, for 6 minutes or until sauce is syrupy, stirring occasionally. Garnish with chives.
SHARE