Shrimp with Warm Tomato and Herb Butter
Early Summer 2009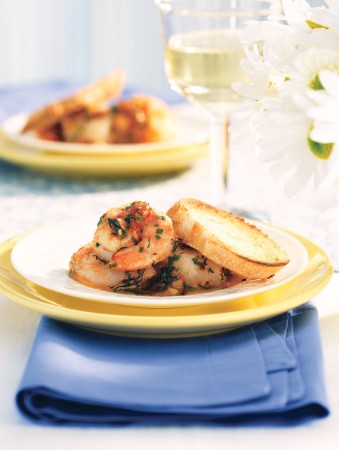 Shrimp with Warm Tomato and Herb Butter
Early Summer 2009
BY: Tonia Wilson-Vuksanovic
This dish can be prepared within moments, which makes it perfect for a multicourse menu. Any soft leaf herb, such as basil, marjoram or cilantro, can be substituted for the chives and dill.
2 tbsp (25 mL) unsalted butter
2 tsp (10 mL) garlic, finely chopped
1⁄8 tsp (0.5 mL) chili flakes
1⁄2 cup (125 mL) plum tomatoes, finely chopped
1⁄4 cup (50 mL) dry white wine
1 lb (500 g) large black tiger shrimp, peeled (at least 20 shrimps)
1 tbsp (15 mL) fresh chives, finely chopped
1 tbsp (15 mL) fresh dill, finely chopped
Salt to taste
4 slices of baguette, toasted
1. In a large sauté pan heat half the butter over medium-high heat until melted, add garlic and chili flakes and stir until garlic is very lightly golden, about 1 minute.

2. Increase the heat to high, add tomatoes and wine and continue to cook until softened, about 3 minutes.

3. Add shrimp, cook until the shrimps turn pink, about 4 minutes.

4. Add the rest of the butter and herbs, toss to coat. Season to taste.

5. Divide shrimps evenly on plates and serve with a slice of toasted baguette.
SHARE