Shrimp with Chickpeas & Lime Crema
Printemps 2017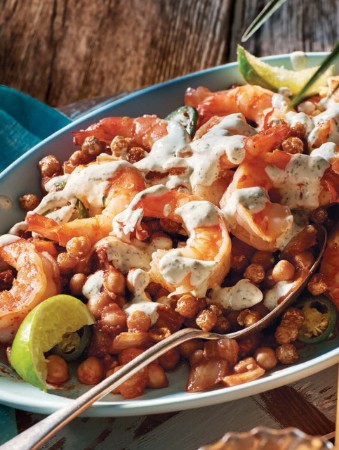 Shrimp with Chickpeas & Lime Crema
Printemps 2017
BY: Lucy Waverman
This recipe is inspired by a dish created by Chef Eileen Andrade from the Cuban restaurant Finka in Miami. You cook most of the chickpeas in a flavoured liquid, fry a few and serve it all topped with shrimp. So satisfying! Make the chickpeas ahead of time and reheat before adding the shrimp. The crema tastes good on everything, Cuban or not. Chipotle powder can be replaced by chili powder.
LIME CREMA
¼ cup (60 mL) sour cream
1 tbsp (15 mL) mayonnaise
1 tbsp (15 mL) lime juice
1 tbsp (15 mL) chopped cilantro
½ tsp (2 mL) chopped garlic

CHICKPEAS
5 tbsp (75 mL) olive oil
1 cup (250 mL) diced Spanish onion, about ½ onion
½ cup (125 mL) finely diced red pepper, about ½ pepper
½ cup (125 mL) finely diced dried chorizo
2 bay leaves
1 tbsp (15 mL) finely chopped garlic
½ tsp (2 mL) ground cumin
4 cups (1 L) drained and rinsed chickpeas, about 2 cans (each 560 mL)
½ cup (125 mL) red wine
1 cup (250 mL) passata (tomato purée)
2 tbsp (30 mL) Worcestershire sauce
1 tbsp (15 mL) sherry vinegar
¼ tsp (1 mL) smoked sweet paprika
¼ tsp (1 mL) sugar
Salt and freshly ground pepper
1 tsp (5 mL) chipotle chili powder

SHRIMP
1 lb (500 g) shrimp, peeled and deveined
2 tbsp (30 mL) thinly sliced garlic
4 to 5 thin slices of jalapeño pepper, or more to taste
1 tbsp (15 mL) white rum

GARNISH
1 tsp (5 mL) grated lime zest
1. Combine sour cream, mayonnaise, lime juice, cilantro and garlic in a blender or use a stick blender for 30 seconds to purée. Reserve.

2. Heat a large skillet over medium-high heat. Add 2 tbsp (30 mL) oil. Sauté onions, peppers, chorizo and bay leaves for about 5 to 6 minutes or until vegetables have softened. Add garlic and cumin and cook until fragrant, about 30 seconds. Add 3 cups (750 mL) chickpeas and coat with mixture. Add wine and bring to boil. Stir in passata, Worcestershire sauce, vinegar, paprika and sugar. Bring to a boil then reduce heat to medium-low and simmer until sauce is thick and flavourful, about 10 to 15 minutes. Season with salt and pepper.

3. Heat remaining 3 tbsp (45 mL) oil over medium-high heat in a nonstick skillet. Pat remaining 1 cup (250 mL) chickpeas dry and add to oil. Fry until golden, tossing occasionally, about 4 minutes. Using a slotted spoon, remove from oil and place on a paper towel, leaving oil in skillet. Transfer chickpeas to a bowl and toss with chipotle powder and salt.

4. Season shrimp with salt. Add garlic and jalapeño to skillet used for frying chickpeas. Sauté for 1 to 2 minutes or until garlic is lightly browned. Add shrimp to pan. Continue to sauté for 2 to 3 minutes or until shrimp is pink and slightly curled. Add rum and bring to boil, then remove from heat.

5. Transfer chickpeas in sauce to a serving dish and remove bay leaves. Scatter over shrimp with any sauce and fried chickpeas. Drizzle over crema and garnish with lime zest to serve.
SHARE