Shrimp on the Barbie
Début de l'été 2005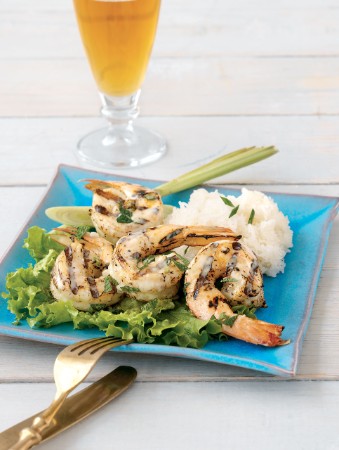 Shrimp on the Barbie
Début de l'été 2005
BY: Lucy Waverman
Barbecuing is a way of life for Australians. The warm climate, their love of the outdoors and a passion for meat make the 'barbie' the centre of Australian entertaining. With their seasons reversed from ours, on Christmas Day, Australians are barbecuing their holiday meal. Australians do not limit the grill to the usual meats and vegetables, but throw on traditional native ingredients, like bush tomatoes and lemon myrtle, and Asian-influenced foods — some barbeques even come with built-in woks! Asian cooking is a large part of the Australian food scene. Shrimps on the barbie are just as likely to be Asian-marinated as they are to be plain. Serve on a bed of lettuce with sticky rice on the side.
1 cup (250 mL) coconut milk
1 tsp (5 mL) Thai green curry paste
2 tsp (10 mL) chopped garlic
2 tbsp (25 mL) lime juice
2 tbsp (25 mL) fish sauce
1 lb (500 g) jumbo shrimp, peeled, deveined, tails on
4 stalks lemon grass
Salt and freshly ground pepper
¼ cup (50 mL) vegetable oil

Garnish
Reserved marinade
2 tsp (10 mL) lime juice
1 tsp (5 mL) sugar
1 tbsp (15 mL) chopped mint
1. Combine coconut milk, curry paste and garlic. Bring to boil, reduce heat and simmer for 8 to 10 minutes or until coconut milk has thickened slightly. Stir in lime juice and fish sauce. Cool. Toss with shrimp and marinate for 1 hour.

2. Remove shrimp from marinade and thread shrimps onto lemon grass stalks, spearing shrimps in 2 places so that they don't turn on the skewers. Season with salt and pepper. Reserve marinade.

3. Preheat grill to high. Brush shrimp with extra oil. Grill about 2 minutes per side or until shrimps are cooked. While shrimp is cooking, place reserved marinade in a small pot over high heat. Bring to a boil, and boil for 3 minutes or until quite thick (like mayonnaise). Remove from heat, stir in extra lime juice and sugar. Drizzle over grilled shrimp and sprinkle with mint.
SHARE