Shrimp and Grits, Spicy Sausage and Red Eye Gravy
Summer 2007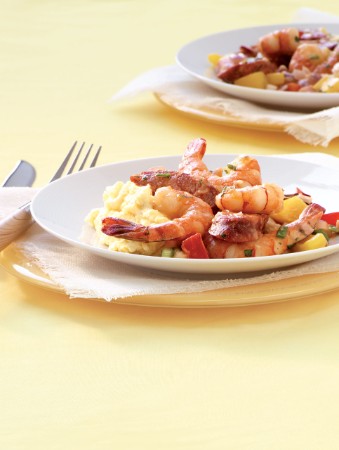 Shrimp and Grits, Spicy Sausage and Red Eye Gravy
Summer 2007
BY: Lucy Waverman
This is the most traditional Southern dish of our choices. Sautéed spicy sausage, shrimp and down home grits (or polenta if grits are unavailable) made with cheese-so flavourful and so addictive!
Shrimp and Grits

2 tbsp (25 mL) vegetable oil
2 smoked chorizo sausage cut on the bias about ½-inch (1-cm) thick
1 cup (250 mL) chopped red onion
½ cup (125 mL) chopped red pepper
½ cup (125 mL) chopped yellow pepper
16 large shrimp, peeled and deveined
1 cup (250 mL) Red Eye Gravy (recipe follows)
2 tbsp (25 mL) chopped parsley
2 green onions, finely chopped
Salt and freshly ground pepper
2 cups (500 mL) Cheddar Grits (recipe follows)
1. Heat vegetable oil in a skillet over medium-high heat. Add chorizo and sauté for about 1 minute per side or until browned. Add onion and peppers and cook until onions are translucent, about 2 minutes longer. Add shrimp and sauté another 2 to 3 minutes.

2. Add Red Eye Gravy and simmer until shrimp is pink and curled and sausage is cooked, about 1 to 2 minutes longer. Stir in parsley and green onions. Adjust seasoning as needed. Serve over Cheddar Grits.

Red Eye Gravy
Make this up to 2 days ahead of time. The gravy is made with coffee (use instant if you don't have fresh) and is good
with ham steaks and pork chops, too.

¼ cup (50 mL) butter
¼ cup (50 mL) chopped onion
¼ cup (50 mL) chopped smoked ham or turkey
1 tsp (5 mL) chopped garlic
¼ cup (50 mL) all-purpose flour
¼ cup (50 mL) coffee
1½ cups (375 mL) chicken stock
Salt and freshly ground pepper
1.  Heat butter in a pan over medium heat. Add onion and ham and sauté for 4 minutes or until cooked through. Add garlic and cook another 30 seconds. Then add flour and cook until golden, about 2 minutes.

2.  Add coffee and let reduce, scraping up any bits from the bottom of the pan. When mixture is thick, add stock and whisk to boil. Reduce heat and simmer for 5 minutes or until sauce is thickened and coats the back of a spoon. Season with salt and pepper.

Cheddar Grits
Grits are the Southern staple food. They balance the heat in some of the dishes and in the past provided bulk in the diet of the very poor. Grits are ground dried corn similar to Italian polenta.The biggest difference is that grits are less finely ground than polenta. If you can find stone-ground grits these are the best as they have a more corn-like taste. Substitute polenta if grits are unavailable. Grits are often served as a breakfast dish or a side dish.

3 cups (750 mL) water
2 cups (500 mL) half-and-half cream or milk
1 1/2 cups (375 mL) stone ground grits
2 cups (500 mL) roasted corn kernels (see TIP below)
½ cup (125 mL) butter
Salt to taste
1½ cups (375 mL) sharp cheddar, grated
1.  Bring water and cream to a simmer in a pot over medium heat. Slowly add in grits, stirring constantly. Cook, stirring constantly, until liquid  is absorbed and grits are thick, about 20 minutes. Add corn and butter and season liberally with salt. Continue stirring for another 5 minutes.

2.  Remove from heat and fold in cheese.

Tip:
To roast corn kernels strip the corn from the cob and place in a dry skillet over medium heat. Keep tossing until kernels become golden.
SHARE