Shrimp and Asparagus Nibbles
Early Summer 2005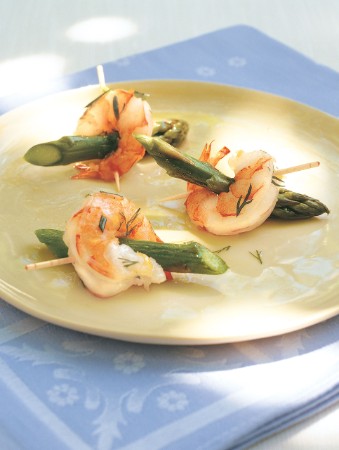 Shrimp and Asparagus Nibbles
Early Summer 2005
BY: Marilyn Bentz-Crowley
Two delicate flavours are complemented here by a hit of fresh lemon and dill. Shrimp are sold by the number of shrimp per pound, with lower numbers meaning bigger shrimp. For this recipe, purchase 30 to 40 shrimp per pound for bite-sized appetizers.
10 medium-thick asparagus spears, about ½ lb (250 g)
1 lb (500 g) large raw zipper-back shrimp, fresh or frozen

Dressing
1 lemon
½ tsp (2 mL) sugar
¼ tsp (1 mL) salt
2 to 3 grindings black pepper
1/3 cup (75 mL) olive oil
1 tbsp (15 mL) chopped fresh dill
1 tbsp (15 mL) finely snipped fresh chives or chopped shallot
1. Discarding tough ends, bias cut asparagus spears into 2-inch (5-cm) lengths. Half-fill a large saucepan with water; bring to a boil. Plunge asparagus pieces into boiling water for 2 minutes. Remove with a slotted spoon. Rinse under cold running water; set aside. Then drop fresh or frozen shrimp into the boiling water. When water comes back to a boil and shrimp are bright pink, drain and rinse shrimp under cold water.

2. Peel shrimp completely, including tails. Tuck a piece of asparagus into the curve of the shrimp; secure together with a toothpick running between tail area through asparagus and into thick end. Place in a single layer in a flat glass dish.

3. Zest lemon onto a sheet of waxed paper; cover and set aside. Squeeze 3 tablespoons (45 mL) juice; whisk in sugar, salt and pepper. Whisk in olive oil, then herbs. Drizzle over shrimp and asparagus. Cover and refrigerate for an hour or 2, or up to half a day. Drain well; arrange on a cool plate. To garnish, lightly scatter with some of the reserved lemon zest and extra chopped dill and chives. Pass small cocktail napkins to catch any drips.
SHARE