Shrimp a la Plancha with Smoked Paprika Vinaigrette
Winter 2018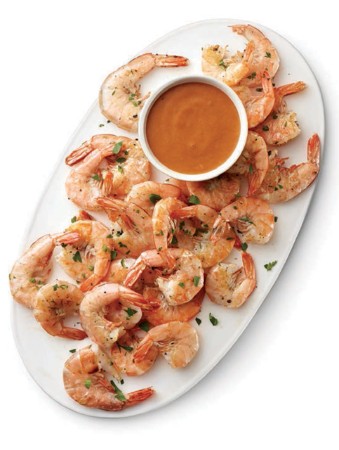 Shrimp a la Plancha with Smoked Paprika Vinaigrette
Winter 2018
BY: Eric Vellend
Shrimp cooked in its shell is always more flavourful, and here it gets a smoky Spanish-style vinaigrette for dipping. You need easy-peel (a.k.a. zipperback) shrimp, which has been cut along the back shell and had its vein removed. (The bulk of frozen shrimp at the supermarket is sold this way.) If you only have one pan, you can cook the shrimp in batches. This recipe will make more vinaigrette than you will need, but it's also delicious drizzled on roasted vegetables and baked fish.
SMOKED PAPRIKA VINAIGRETTE
¼ cup (60 mL) thinly sliced garlic
¾ cup (175 mL) extra virgin olive oil, divided
¼ cup (60 mL) sherry vinegar
1 tbsp (15 mL) Dijon mustard
2 tsp (10 mL) honey
2 tsp (10 mL) smoked paprika
Salt and freshly ground pepper to taste

SHRIMP
1½ lbs (750 g) large easy-peel shrimp, 31 to 40 per 1 lb (500 g)
2 tbsp (30 mL) vegetable oil
Salt and freshly ground pepper to taste
Chopped parsley for serving (optional)
1. For the smoked paprika vinaigrette, combine garlic and ¼ cup (60 mL) olive oil in a small saucepan. Place over medium heat. Cook, occasionally swirling pan, until garlic just starts to brown at edges, 3 to 5 minutes. Transfer to heatproof bowl. Cool completely.

2. Combine garlic and oil mixture, vinegar, mustard, honey and smoked paprika in blender. Blend until smooth. With motor running, add remaining ½ cup (125 mL) olive oil in slow steady stream until dressing is thick and emulsified. Stop machine, scrape down bowl, and season with salt and pepper. Run blender on high for 30 seconds. Transfer to airtight container. (Vinaigrette will keep, covered and refrigerated, up to 2 weeks.)

3. For the shrimp, rinse thoroughly under cold running water. Pat dry with paper towel. Transfer to mixing bowl. Toss with oil, salt and pepper.

4. Heat 2 large cast-iron or heavy-duty nonstick frying pans over medium heat for 5 minutes. Raise heat to medium-high. When hot, add shrimp in single layers. Cook until cooked through, about 2 minutes per side. Transfer to a warmed serving platter and sprinkle with parsley, if using. Serve with some vinaigrette in a small bowl to dip and a bowl for the shells.
Serves 4 as a main course or 8 as an appetizer
SHARE