Shrimp Puff Toasts
Holiday 2010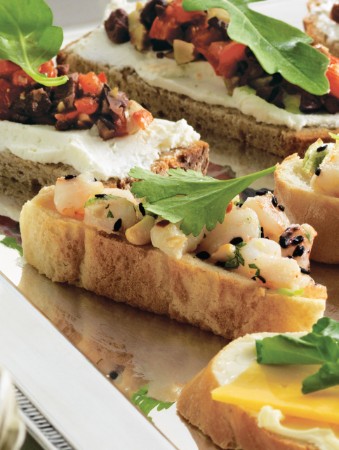 Shrimp Puff Toasts
Holiday 2010
BY: Marilyn Bentz-Crowley
In a break from English tradition, the crusts are left on the bread as they provide a crisply convenient handle. Small shrimp work best in this recipe. Purchased already-cooked shrimp are finely misted with water as they are frozen, so this liquid must be removed with paper towels.
3/4 lb (375 g) shelled and cooked small-size shrimp, defrosted
1 1/2 tsp (7 mL) cornstarch
1 tbsp (15 mL) dark sesame oil
1 1/2 tsp (7 mL) finely grated fresh ginger
1 medium clove garlic, minced
1/4 cup (50 mL) chopped roasted cashews
1 large or 2 small green onions, very thinly sliced
2 tbsp (25 mL) chopped fresh coriander
1 tbsp (15 mL) lime juice
1/4 tsp (1 mL) hot chili flakes
1 egg white
2 tbsp (25 mL) butter, softened
6 slices white bread, preferably Italian style
1 tsp (5 mL) sesame seeds, preferably black
1 Remove tails from shrimp; discard. Chop shrimp into 1/4-inch (5-mm) pieces; spread on a double thickness of paper towel and roll up. Gently squeeze. If towels are totally saturated, repeat with 2 fresh towels. Transfer shrimp to a bowl. Using fingers, toss with cornstarch; set aside.

2 Arrange 1 rack below oven centre; preheat oven to 375°F (190°C).

3 In a small frying pan, heat sesame oil over medium heat until just hot. Add ginger and garlic; cook 1 minute. Remove from heat; cool.

4 Stir cooled ginger mixture into shrimp mixture along with cashews, green onion, coriander, lime juice and hot chili flakes. Whip egg white until stiff peaks form; fold into shrimp mixture.

5 Butter 1 side of bread; place buttered-side down on a single-thickness baking sheet (do not use double-bottomed cookie sheets, or risk soggy bottoms!). Dividing equally, spread each slice with shrimp mixture, right to crusts. Generously sprinkle with sesame seeds. (Prepared sandwiches can be covered and promptly frozen flat on a baking sheet.Then transfer to freezer bags. When ready to serve, uncover and bake directly out of freezer for 15 to 20 minutes.)

6 Bake for 10 to 15 minutes or until edges of bread and bottoms are toasted. Cut each slice diagonally into quarters to form triangles. Garnish with additional coriander. Serve immediately.


SHARE