Shrimp Croquettas
Spring 2009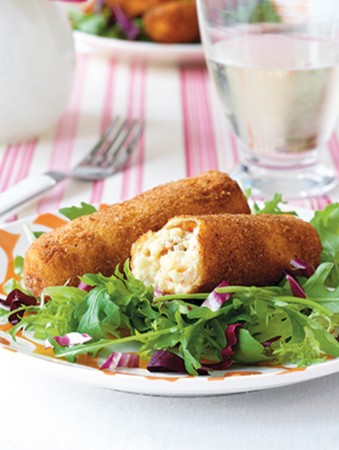 Shrimp Croquettas
Spring 2009
BY: Lucy Waverman
When you bite into these crisp little croquettas the centre is soft and succulent inside.
Sauce

1⁄2 lb (250 g) shrimp, peeled, shells reserved
3 cups (750 mL) milk
1⁄4 cup (50 mL) whipping cream
3 sprigs parsley
1 bay leaf
1⁄2 tsp (2 mL) hot smoked Spanish paprika
1⁄4 cup (50 mL) butter
1⁄2 cup (125 mL) chopped onion
1⁄4 cup (50 mL) flour

Batter

1⁄2 cup (125 mL) flour seasoned with salt and pepper
2 eggs, beaten
1 cup (250 mL) dry bread crumbs
Oil for frying
1. Place shrimp shells, milk, cream, parsley, bay leaf and paprika in a pot over high heat and bring to boil. Turn heat to medium-low and simmer for 25 to 30 minutes or until milk is reduced to 11⁄2 cups (375 mL). Strain milk and reserve. Coarsely chop shrimp.

2. Wipe out pot, add butter and melt over medium heat. Add onions and sauté for 2 minutes or until softened. Stir in flour and cook, stirring gently, for 1 minute. Pour in reserved milk, whisking constantly, until combined and bring to a boil. Reduce heat to medium-low and simmer, whisking occasionally, for 10 minutes or until sauce becomes very thick. You should have about 1 cup (250 mL) sauce. Stir in shrimp and cook for 1 minute or until it turns pink.

3. Pour mixture onto a plastic-lined baking sheet. Refrigerate until cold and firm.

4. Divide mixture into 8 equal portions. Use your hands to form each portion into a cylinder about 3 inches (8 cm) long. Dredge in seasoned flour, coat with beaten eggs and then roll in bread crumbs making sure to keep the cylinder shape. Chill until needed.

5. Heat about 2 inches (5 cm) oil over high heat in a deep pot or wok. When oil is very hot (about 350°F/180°C), add croquettas in batches and fry for about 2 to 3 minutes or until heated through and golden.

6. Serve immediately on a bed of greens or reheat later in a 350°F(180°C) oven for 5 to 7 minutes.
SHARE