Shrimp Coconut Bisque
Holiday 2017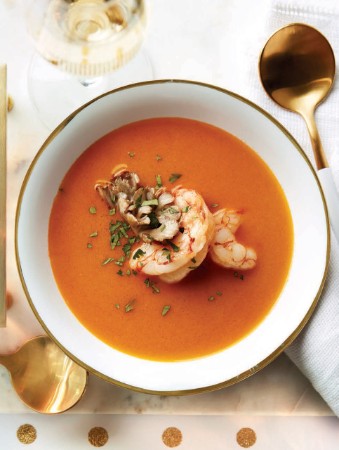 Shrimp Coconut Bisque
Holiday 2017
BY: Lucy Waverman
Wild Argentinian shrimp are sweeter than black tiger. They are wild-caught not farmed. If not available, use whatever you can find. This is made like a traditional French lobster bisque but with Asian spices, and you can substitute lobster cooked in its shell for the shrimp if you wish. If Hen of the Woods mushrooms are unavailable, use Enoki or other small mushroom clusters.
STOCK
1 lb (500 g) wild-caught Argentinian shrimp
3 cups (750 mL) vegetable, fish or chicken stock
2 cups (500 mL) coconut milk
2 tbsp (30 mL) tomato paste
1 star anise
1 tsp (5 mL) red curry paste
1 tsp (5 mL) grated ginger
1 tsp (5 mL) grated lime rind
3 tbsp (45 mL) jasmine rice
2 tbsp (30 mL) fish sauce
2 tsp (10 mL) lime juice

GARNISH
2 tbsp (30 mL) vegetable oil
1½ cups (375 mL) Hen of the Woods mushrooms, torn into clusters
2 tbsp (30 mL) finely chopped cilantro
1. Shell shrimp, adding shells to a medium saucepan. Reserve shrimp.

2. Add stock, coconut milk, tomato paste, star anise, curry paste, ginger and lime rind to the sauce pan. Bring to a boil then reduce heat to medium-low and simmer for 25 to 30 minutes to infuse the flavours. Strain stock into a clean saucepan and bring back to a simmer over low heat. Stir in rice. Simmer covered for 20 minutes or until rice is very soft. Purée in a blender or food processor. Stir in fish sauce and lime juice.

3. Chop half of the shrimp, leaving four whole for garnish. Add whole shrimp to stock and poach 1 minute. Add chopped shrimp and poach until all are cooked through, about 2 minutes longer.

4. Heat oil in skillet over medium heat. Quickly fry the mushrooms to top the soup.

5. Serve soup garnished with whole shrimp, mushrooms and cilantro.
SHARE