Shrimp Cakes with Cashews and Wasabi Mayonnaise
Début de l'été 2006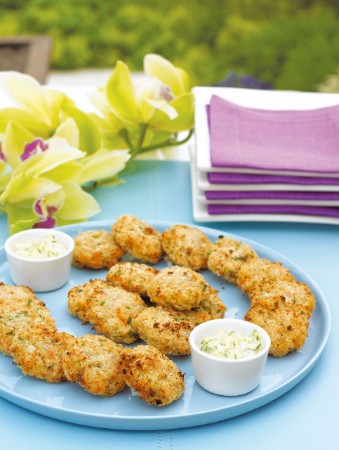 Shrimp Cakes with Cashews and Wasabi Mayonnaise
Début de l'été 2006
BY: Marilyn Bentz-Crowley
Nutty cashews add crunch - and fiery wasabi certainly contributes punch - to these tiny cakes. When seafood is frozen, a fine mist of water is used to coat each piece with ice to protect from freezer burn. This moisture must be thoroughly removed for these cakes.
1/3 cup (75 mL) roasted salted cashews
¾ lb (375 g) frozen cooked small shrimp, defrosted
½ lime
¼ tsp (1 mL) dark sesame oil
2 tbsp (25 mL) chopped fresh coriander or parsley
¼ cup (50 mL) mayonnaise
1 tsp (5 mL) wasabi paste
1 egg
2 cups (500 mL) fresh bread crumbs, divided (Tip follows)
1 small green onion, minced
2 tbsp (25 mL) peanut or canola oil
1. Pulse cashews in food processor until coarsely chopped. Place defrosted shrimp in colander in sink. Using your hands, firmly squeeze handfuls of shrimp, letting moisture drain away. Wrap shrimp in several layers of paper towel; firmly press to remove additional moisture. Add shrimp to food processor; pulse to coarsely chop.

2. Zest lime and squeeze juice; stir with sesame oil and coriander in a small bowl. Add half of this mixture to food processor. Stir mayonnaise and wasabi into remaining half of mixture. Cover bowl of sauce and refrigerate.

3. Add egg to food processor; pulse until combined. Add 1¼ cups (300 mL) bread crumbs; whirl until moistened and clumpy. Add green onion; briefly pulse until mixed.

4. Line a tray with waxed or parchment paper. Using 1 rounded tbsp (15 mL) shrimp mixture, shape into a 1½-inch (4-cm) patty. Press a few of the remaining bread crumbs onto both surfaces. Place on tray; cover and refrigerate to firm patties, at least an hour or up to a day.

5. When ready to serve, arrange oven rack 4 to 5-inches (10-12 cm) from broiler; preheat. Spread oil on baking sheet; gently add shrimp cakes, placing slightly apart. If any cakes separate, simply press together again. Broil 3 to 5 minutes or until golden. Then turn and broil 3 to 4 minutes until second side is golden. Serve right away topped with a dollop of wasabi mayonnaise on a warmed platter.
SHARE