Shrimp & Sweet Potato Fritters
Summer 2011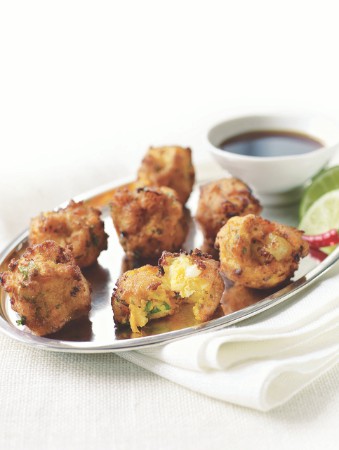 Shrimp & Sweet Potato Fritters
Summer 2011
BY: Tonia Wilson-Vuksanovic
These fritters have a crispy exterior and smooth, rich filling that marries perfectly with the zesty spritz of Blanche de Chambly or Hoegaarden. If need be, the fritter mixture can be made up to 12 hours ahead of time. Take it out of the refrigerator 20 minutes before frying and continue as directed.
4 cups (1 L) orange-fleshed sweet potato, peeled and diced
½ cup (125 mL) raw shrimp, peeled and coarsely chopped (about 10 medium shrimp)
1 tsp (5 mL) salt
½ ttsp (2 mL) hot sauce, or to taste
2 tbsp (30 mL) fresh ginger, peeled and finely chopped
¼ cup (60 mL) green onions, finely chopped
3 tbsp (45 mL) unsweetened coconut flakes
2 tbsp (30 mL) fresh cilantro, finely chopped
1 egg, lightly beaten
¼ cup (60 mL) all-purpose flour
½ cup (125 mL) plain bread crumbs
1 tsp (5 mL) baking powder
4 cups (1 L) peanut or vegetable oil for frying
1 In a large pot of unsalted water, boil potatoes over high heat. Once they are tender, drain well, allowing them to sit in colander for 10 minutes for water to drain off . Return to pot and mash.

2 Measure 2 cups (500 mL) of the mashed potatoes into a large bowl. Add shrimp, salt, hot sauce, ginger, green onion, coconut, cilantro, egg, fl our, bread crumbs and baking powder. Gently fold together all the ingredients until well blended. Allow mixture to rest in the refrigerator for 15 minutes before frying.

3 In a large pot or deep fryer heat oil to 350°F (180°C). Carefully drop fritter batter by heaping tablespoons into the oil using 2 spoons, 1to scoop and the other to help push the batter into the oil. Place 5 or 6 fritters into oil at a time and fry until golden on both sides, about 1 minute. With a slotted spoon, place fritters on paper towel to drain, and repeat with remaining batter until all are fried. Serve with Lime-Soya Dip (recipe follows).
SHARE