Shredded Brussels Sprouts with Pine Nuts and Prosciutto
Holiday 2000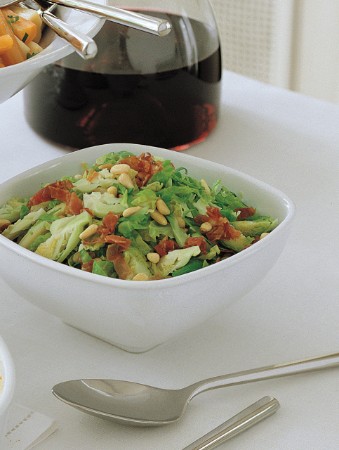 Shredded Brussels Sprouts with Pine Nuts and Prosciutto
Holiday 2000
BY: Lucy Waverman
This recipe will certainly become a favourite of non-brussels sprouts eaters because it tastes very different from how whole brussels sprouts are usually served. Shredding them gives the dish a whole new look. Make earlier in the day and reheat when needed.
1 ½ lbs (750 g) brussels sprouts
¼ cup (50 mL) olive oil
6 slices prosciutto, chopped
¾ cup (175 mL) pine nuts
Salt and freshly ground pepper
1. Remove root end and core from brussels sprouts, cut in half and thinly slice.

2. Heat oil in skillet on medium-high heat. Add prosciutto. Sauté until beginning to crisp. Add sprouts and sauté for 3 minutes. Cover pan and cook 2 minutes longer or until sprouts are crisp-tender.

3. Toss in pine nuts, sauté 1 minute and season with salt and pepper.
SHARE