Shredded Brisket & Avocado Sandwiches
Early Summer 2014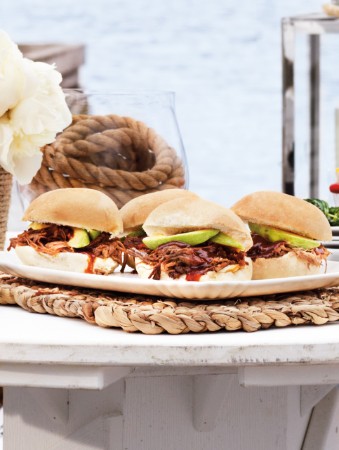 Shredded Brisket & Avocado Sandwiches
Early Summer 2014
BY: Victoria Walsh
A meal of smoky, juicy and tender brisket—topped with creamy avocado and sandwiched between squishy soft buns—is an easy and tasty way to feed a crowd. Prepared brisket will keep well, covered and refrigerated for 2 to 3 days.
¼ cup (60 mL) chili powder
3 tbsp (45 mL) lightly packed brown sugar
2 tbsp (30 mL) kosher salt
1 tbsp (15 mL) ground cumin
1 tbsp (15 mL) dried thyme
1 tsp (5 mL) mustard powder
1 tsp (5 mL) freshly ground black pepper
8 to 10 lbs (3.5 to 4.5 kg) brisket
Wood chips
Large foil pieces
1 to 2 cups (250 to 500 mL) barbecue sauce, preferably homemade
3 ripe avocados, sliced
8 large, soft buns
1 In a small bowl, stir first seven ingredients together until evenly mixed. Rub spice mixture all over brisket. Cover or wrap. Refrigerate overnight.

2 When ready to begin barbecuing, remove brisket from refrigerator. Let come to room temperature, 1 to 1½ hours.

3 Soak wood chips in warm water for 20 minutes. Drain. Place in a smoker box or foil packet with a few poked holes. Set on burner of barbecue below grill. Preheat barbecue to low; this will read approximately 250° to 300°F (120° to150°C). Low barbecue and roasting temperatures are essential for tender brisket results.

4 Barbecue brisket, fat-side up, for 2½ hours.

5 At the 2 hour mark, preheat oven to 300°F (150°C).

6 When brisket has barbecued for 2½ hours, remove to large pieces of foil set on a large baking sheet. Wrap brisket and continue cooking by slow roasting in centre of preheated oven. Slow roast until very tender; this will take about 3 more hours.

7 Let stand 15 minutes. Using 2 large forks, shred brisket. Serve warm or at room temperature with barbecue sauce, slices of avocado and buns. Allow guests to assemble.
Makes 8 servings plus leftovers
SHARE