Shiitake and Potato Pizza
Autumn 2006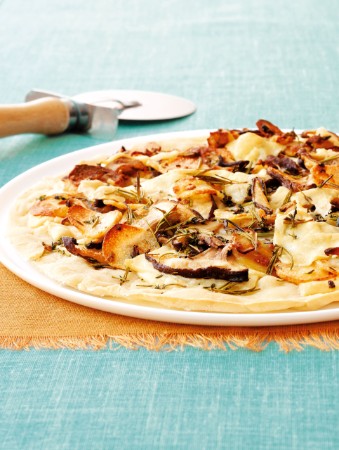 Shiitake and Potato Pizza
Autumn 2006
BY: Sasha Chapman
Woodsy mushrooms, potatoes and Monforte's Paradiso cheese make a wonderfully earthy marriage. Taleggio or fontina may be substituted for Paradiso. Because of its potent flavours, this pizza is best served in smaller portions, as an appetizer.
1 lb (500 g) pizza dough (defrosted at room temperature, if frozen)
1 tbsp (15 mL) cornmeal
2 new potatoes (about golf-ball size), peeled and sliced
3 tsp (15 mL) olive oil
1 clove garlic, chopped
Sea salt
2 oz (60 g) Paradiso cheese sliced
2 oz (60 g) shiitake mushrooms, cleaned with moist paper towel, sliced
½ tsp (2 mL) thyme
½ tsp (2 mL) rosemary
1. Preheat oven (and baking stone, if you have one), to 425ºF (220ºC).

2. On a clean, floured working surface, roll out pizza dough to a 12-inch (30-cm) circle. Sprinkle top with cornmeal and flip over onto a baker's peel or baking sheet with no sides.

3. Toss potatoes with 1 tsp (5 mL) oil, garlic and salt to taste. Roast on a lined baking sheet until softened and just golden, about 10 minutes.

4. Scatter cheese over pizza dough and top with potato slices. Toss mushrooms in 2 tsp (10 mL) olive oil, herbs and salt to taste. Scatter over potatoes and cheese.

5. Slide pizza onto baking stone, if using. Bake until the bottom of the crust is golden brown, about 15 to 20 minutes. Serve immediately.
Serves 4-6 as an appetizer
SHARE