Shiitake Fricos with Arugula & Chinese Five-Spice Dressing
Temps des Fêtes 2014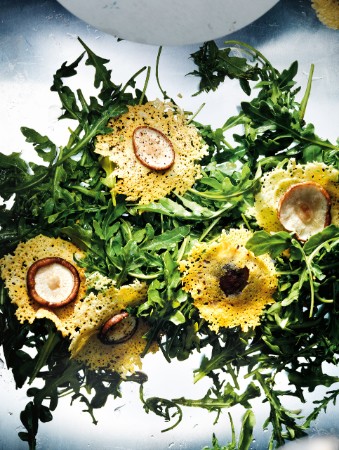 Shiitake Fricos with Arugula & Chinese Five-Spice Dressing
Temps des Fêtes 2014
BY: Amy Rosen
This warmly spiced dressing with its lime zing brings together peppery arugula, mushrooms and super crunchy cheese. Best served when mushrooms are still warm, Shiitake Fricos can also be stored at room temperature for several hours before serving.
8 oz (250 g) fresh shiitake mushrooms
1 cup (250 mL) freshly grated Parmesan
1 tbsp (15 mL) flour
Freshly ground pepper
1 lime, juiced, about 1 tbsp (15 mL)
½ tsp (2 mL) sugar
½ tsp (2 mL) Chinese five-spice powder
Pinch of salt
Pinch of chili flakes
2 tbsp (30 mL) vegetable oil
5 oz (150 g) arugula
1 Remove stems from mushrooms and discard. Wipe caps clean. Combine Parmesan with flour. Lay a piece of parchment paper on a baking tray. Set aside.

2 In a large nonstick frying pan (nonstick is key here), measure out four 2-inch (5-cm) circles of Parmesan mixture, making them as flat and even as possible and being sure they don't touch, with a divot in the centre of each. Place a shiitake mushroom, top-side down, in the centre of each round of cheese. Season with pepper. Over medium heat, cook for about 3 minutes or until fricos turn golden brown. Remove pan from heat, and after a couple of minutes, when the cheese has solidified, remove fricos from pan with a spatula and set, crispy cheese-side up, on parchment paper so that any liquid released lands on paper. Repeat with remaining mushrooms and cheese, in 2 to 3 more batches.

3 Whisk together lime juice, sugar, Chinese five-spice, pinch each of salt and chili flakes, and vegetable oil. Dress arugula with dressing, divide among 6 salad plates, and top with 1 or 2 fricos each. Serve immediately.
SHARE