Shepherd's Pie
Autumn 2007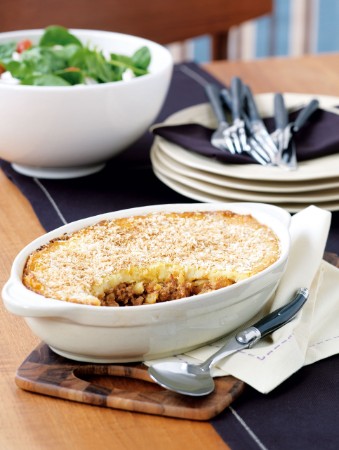 Shepherd's Pie
Autumn 2007
BY: Lucy Waverman
This is a very flavourful shepherd's pie, originally a Scottish dish made with ground lamb. I prefer the beef version. Sometimes this is made with leftover roast beef but it never has the same body or taste. When you're doing the vegetables try to make them all the same size (about ¼ to ½-inch (5 mm to 1-cm) dice, for even cooking and attractive appearance. Although the ingredient list looks long, it is a very simple dish to make.
1 tbsp (15 mL) vegetable oil
1 cup (250 mL) chopped onion
½ cup (125 mL) chopped celery
½ cup (125 mL) chopped carrots
1 cup (250 mL) chopped rutabaga or turnip
1 lb (500 g) lean ground beef
1 tsp (5 mL) chopped garlic
Pinch cayenne
2 tsp (10 mL) chopped fresh thyme
Salt and freshly ground pepper
1 bay leaf
1 tbsp (15 mL) flour
1½ cups (375 mL) beef or chicken stock
1 cup (250 mL) chopped canned tomatoes
1 tbsp (15 mL) Worcestershire sauce
1 tbsp (15 mL) soy sauce
1 tsp (5 mL) tomato paste

Topping

1½ lbs (750 g) Yukon Gold potatoes, peeled and quartered
¼ cup (50 mL) butter
¼ cup (50 mL) milk
3 tbsp (45 mL) dry bread crumbs
1. Heat oil in a skillet over medium heat. Add onion, celery, carrots and rutabaga and sauté until softened, about 4 minutes. Add beef, garlic, cayenne and thyme and season with salt and pepper. Sauté for 3 minutes or until meat loses its pinkness. Add bay leaf and stir in flour. Add stock, tomatoes, Worcestershire sauce, soy sauce and tomato paste. Bring to boil, reduce heat to low and simmer for 30 to 35 minutes or until sauce is thickened. Taste for seasoning.

2. Cook potatoes in boiling salted water until tender, about 12 to 15 minutes. Drain well, return to pot and dry off on the turned-off burner. Mash with butter and milk. Season with salt and pepper.

3. Preheat oven to 375°F (190°C).

4. Spoon beef into a medium-sized baking dish. Top with potato mixture and sprinkle bread crumbs on top. Bake for 20 to 25 minutes or until mixture is bubbling and topping is crisp.
SHARE