Shellfish Ceviche
Summer 2007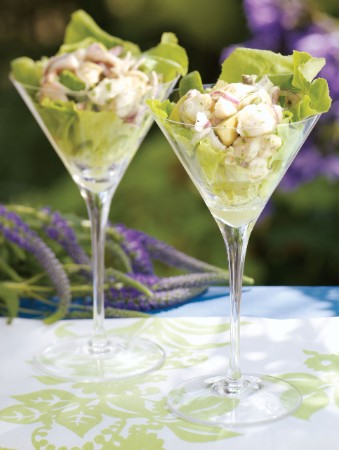 Shellfish Ceviche
Summer 2007
BY: Jennifer McLagan
You need very fresh seafood for this recipe. The shellfish must marinate for about 6 hours in order to 'cook,' so start the recipe in advance. Mix the marinated no more than 30 minutes before serving. seafood with the other ingredients no more than 30 minutes before serving.
½ lb (250 g) shelled, cleaned shrimp
½ lb (250 g) scallops
2 cleaned squid, optional
1 cup (250 mL) freshly squeezed lime juice
¼ tsp (1 mL) ground allspice
Freshly ground black pepper
½ cup (125 mL) red onion, thinly sliced
1 chili pepper, seeded and thinly sliced
2 tbsp (25 mL) chopped coriander
1 tbsp (15 mL) salt packed capers, rinsed
3 tbsp (45 mL) olive oil
2 tbsp (25 mL) freshly squeezed orange juice
1 tsp (5 mL) kosher salt
1 avocado, peeled and cut into ½-inch (1-cm) dice
6 lettuce leaves
1.  Cut the shrimp and scallops into ½-inch (1-cm) dice. Cut the squid bodies, if using, in half lengthwise then slice thinly. Cut the tentacles into small pieces. Place all the seafood in a non-corrosive bowl. Mix the lime juice with the allspice and pepper and then pour over the seafood. Stir to mix, then cover and refrigerate for about 6 hours to 'cook.' (To check the seafood is ready, cut a piece in half-it should be opaque all the way through.)
2. Drain the seafood well and then place in a bowl. Add the onion, chili pepper, coriander and capers. Mix the olive oil and orange juice, add the salt, then pour over the mixture in the bowl. Stir together, then check the seasoning. Add the avocado and mix gently.
3.  Place a lettuce leaf on each plate or serving glass and top with the shellfish mixture.
SHARE