Shaved Fennel with Ricotta Salata
Été 2005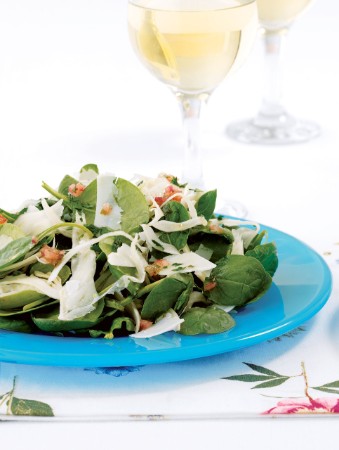 Shaved Fennel with Ricotta Salata
Été 2005
BY: Lucy Waverman
The slightly licorice flavour of fennel is heightened by the licorice overtones in the tarragon. Ricotta salata is a wonderful, mellow sheep's milk cheese from Italy, like a dry Italian feta. It grates and dices well and its flavour has a sweet milkiness. Substitute pecorino or even feta if you can't get it.
1 small bulb fennel
6 cups (1.5 L) baby spinach
6 oz (175 g) ricotta salata

Shallot Vinaigrette
2 tsp (10 mL) Dijon mustard
2 tsp (10 mL) chopped tarragon
¼ cup (50 mL) finely chopped shallots
¼ cup (50 mL) red wine vinegar
½ cup (125 mL) olive oil
Salt and freshly ground pepper
2 tbsp (25 mL) chopped parsley
1. Cut core from fennel and remove top. Cut in half. With a mandolin, or by hand, thinly slice fennel. Place in bowl and mix with spinach.

2. Shave ricotta with a vegetable peeler and toss with vegetables.

3. Whisk together mustard, tarragon, shallots and vinegar. Slowly whisk in olive oil. Season well with salt and pepper. Toss with salad and finish by sprinkling with parsley.
SHARE