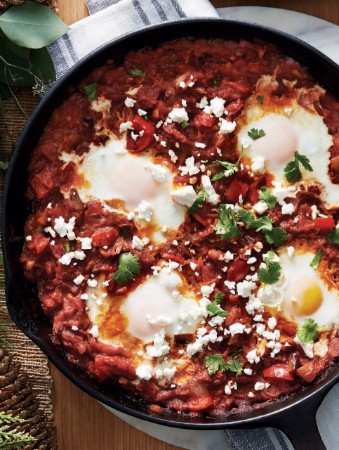 BY: Eshun Mott
This richly spiced tomato and pepper stew with poached eggs originated in North Africa but is popular throughout the Middle East. Add a side of bread and it makes a perfect meal at any time of day. This version gets an appealing brightness from preserved lemons and cilantro. For an extra special presentation, divide cooked sauce between individual frying pans before you add the eggs.
3 tbsp (45 mL) olive oil
1½ cups (375 mL) chopped onion
2 cups (500 mL) chopped red pepper
½ cup (125 mL) chopped cubanelle pepper
1 tbsp (15 mL) chopped fresh red seeded chili (or to taste)
1 tbsp (15 mL) chopped garlic
1 tbsp (15 mL) paprika
2 tsp (10 mL) ground cumin
1 can (796 mL) San Marzano tomatoes, crushed with their juices
2 tbsp (30 mL) chopped preserved lemon rind
¼ cup (60 mL) coarsely chopped cilantro, divided
Salt and freshly ground black pepper
4 large eggs
½ cup (125 mL) crumbled feta cheese
1. Heat olive oil in a deep 10-inch (25-cm) frying pan over medium-high heat. Add onion and peppers and sauté for 10 to 12 minutes or until they are soft and deeply browned in places. Add chili and garlic and sauté for 2 minutes more. Add paprika and cumin and sauté for 1 minute longer. Add tomatoes, preserved lemon rind and half of the cilantro, stirring to combine. Let mixture cook, bubbling gently for 15 minutes or until thick and flavourful. Season with salt and pepper to taste.

2. Use a spoon to make 4 wells in the pepper mixture and carefully crack 1 egg into each. Cover pan and turn heat to low. Cook for 4 to 5 minutes or until whites of eggs have set but yolks still jiggle visibly when pan is shaken. Sprinkle with feta and remaining cilantro.
SHARE