Sesame-Sautéed Purple Carrots
Autumn 2009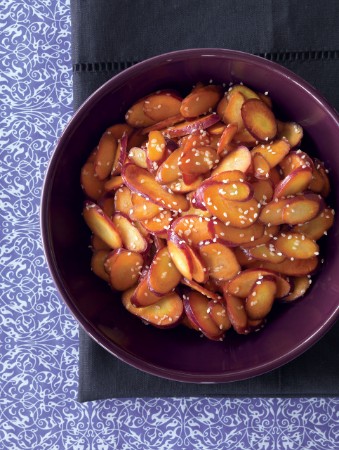 Sesame-Sautéed Purple Carrots
Autumn 2009
BY: Jennifer MacKenzie
Yellow, white, red and purple carrots were common up to the 17th century. Since then those colours have given way to the standard orange that we are most familiar with. Now considered exotic, these heirloom varieties thankfully survived in some parts of the world and are making a comeback here in Ontario along with some new hybrid purple varieties. Purple carrots have just a thin layer of purple pigment on the outside with a conventional orange or a yellow interior (and sometimes orange and yellow), so don't peel them! The flavour is surprisingly like orange carrots but with more depth and true carrot flavour. Some varieties do lose their purple colour when cooked so a light sauté is a good way to get the most of their unusual look.
1 lb (500 g) purple carrots (about 5 medium or 10 small)
2 tsp (10 mL) canola oil
2 tsp (10 mL) toasted sesame oil
1 tbsp (15 mL) sesame seeds
1 tbsp (15 mL) freshly squeezed lemon juice
2 tsp (10 mL) liquid honey
Salt and freshly ground pepper
1. Trim off ends of carrots. Gently scrub under running water to remove any sand and grit. Cut crosswise on a diagonal into ⅛-inch (3-mm) slices.

2. In a large skillet or wok, heat canola and sesame oil over high heat. Add carrots and sesame seeds and sauté for 2 to 3 minutes or until just starting to wilt. Transfer to a warmed serving dish and sprinkle with lemon juice and honey and toss to coat. Season to taste with salt and pepper.
SHARE