Sesame-Crusted Tuna with Thai Avocado Relish
Holiday 2015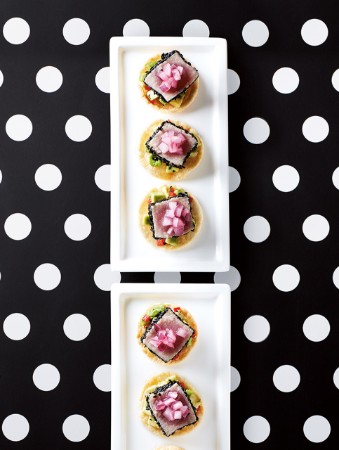 Sesame-Crusted Tuna with Thai Avocado Relish
Holiday 2015
BY: Christopher St. Onge
All of the components here can be made ahead of time. The lime juice in the relish keeps the avocado from turning brown, and the fish will keep in the fridge for a few hours too. The assembly however, should be done just before serving to prevent the chips from getting soggy.
1 tuna steak, 1 inch (2.5 cm) thick, about 14 oz (425 g)
Salt and freshly ground black pepper
⅓ cup (80 mL) black sesame seeds
2 tbsp (30 mL) peanut or vegetable oil
1 tsp (5 mL) plus 1 tbsp (15 mL) lime juice, divided
¼ cup (60 mL) finely diced red onion
1 tbsp (15 mL) Thai-style fish sauce
1 small, firm but ripe avocado, finely diced
1 red cayenne or finger chili, seeds removed, finely chopped
2 makrut lime leaves, finely chopped
Taro chips, or plain popchips, about 30 total


1. Cut tuna into 4 or 5 strips, each 1 inch (2.5 cm) wide; season with salt and pepper. Pour sesame seeds onto a small plate and, working with 1 strip of tuna at a time, press into seeds to fully coat each side. Heat oil over medium-high and sear strips 30 seconds per side; set aside.

2. In a small non-reactive bowl, combine 1 tsp (5 mL) lime juice and the red onion; season with salt.

3. In a separate small bowl, combine the remaining 1 tbsp (15 mL) lime juice and fish sauce; add avocado, chili and lime leaves. Gently stir to separate avocado pieces and coat all in lime juice mixture. Season with freshly ground pepper. (If making ahead, keep components separate, cover and refrigerate for up to 4 hours.)

4. Cut tuna strips into pieces ½ inch (1 cm) thick. Top individual chips with a single piece of tuna, a generous tsp (5-plus mL) of the avocado mixture and a scant ½ tsp (2 mL) of the onion mixture. Serve right away.


Makes approximately 30 canapés
SHARE