Sesame Noodle Bowl
Spring 2020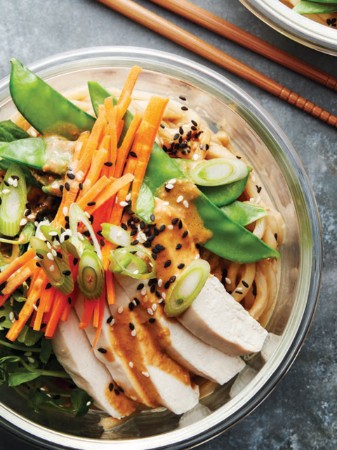 Sesame Noodle Bowl
Spring 2020
BY: Eshun Mott
You've got your Sesame Dressing, your Juicy Poached Chicken and your blanched pea pods in the fridge. Add some fast-cooking Asian noodles and raw veggies for a perfectly delicious lunch.
Salt
½ lb (225 g) fresh or dried Asian noodles (I like the fresh Shanghai Style)
2 tbsp (30 mL) sesame oil
2 tbsp (30 mL) Sesame Dressing (recipe follows) mixed with 2 tbsp (30 mL) water
2 cups (500 mL) pea shoots
1 cup (250 mL) sliced blanched pea pods 1 cup (250 mL) shredded peeled carrot
1 green onion, thinly sliced
1 Juicy Poached Chicken breast, thinly sliced (recipe below)
1 tbsp (15 mL) toasted white or black sesame seeds (or a mixture)
1 Bring a large pot of salted water to Add noodles and boil for 1 to 2 minutes or until cooked but still al dente. Drain and rinse very well with cold water. Toss with sesame oil, cover and refrigerate until ready to dress and serve.
2 Toss noodles in a bowl with thinned Sesame Divide between lunch containers and top with pea shoots, pea pods, carrot, green onion, chicken and sesame seeds. Serve with more Sesame Dressing drizzled over the top if desired.
JUICY POACHED CHICKEN
Starting your chicken in cold water with lots of aromatics is the key to making delicious poached chicken.

2 medium bone-in skin-on chicken breasts, about 1 1/4 lbs (565 g)
5 cups (1.25 L) cold water
1/2 onion, cut into chunks
1 stick celery, cut into chunks
1-inch (2.5-cm) chunk ginger, sliced
2 tsp (10 mL) kosher salt
1/2 tsp (2 mL) black peppercorns
1 Combine all the ingredients in an uncovered medium pot (chicken should be covered by liquid). Turn heat to medium and slowly bring liquid to a gentle simmer. Turn heat to low and cook very gently (with small bubbles going from top to bottom) for 45 minutes or until chicken is cooked (internal temperature should be 165°F (74°C). Remove from heat.

2 Transfer chicken to a plate. Let cool. Remove and discard skin and bones, then shred or slice meat.

SESAME DRESSING

You will find so many uses for this delicious dressing. Thin it out with a little water to get it to the consistency you need.

3 tbsp (45 mL) Chinese sesame paste or tahini
1 tbsp (15 mL) white miso paste
2 tbsp (30 mL) light soy sauce 1 tbsp (15 mL) sesame oil
1 tbsp (15 mL) unseasoned rice vinegar 2 tsp (10 mL) packed brown sugar
2 tsp (10 mL) grated ginger
1 tsp (5 mL) grated garlic
½ tsp (2 mL) Sriracha


1 Combine sesame paste and miso in a medium bowl and whisk until uniform. Whisk in soy sauce, sesame oil, vinegar, brown sugar, ginger, garlic and Sriracha. Thin with water as needed.


Makes about ½ cup (125 mL) or enough to coat 1 lb (455 g) of noodles
SHARE