Sesame Falafel Spoons
Début de l'été 2010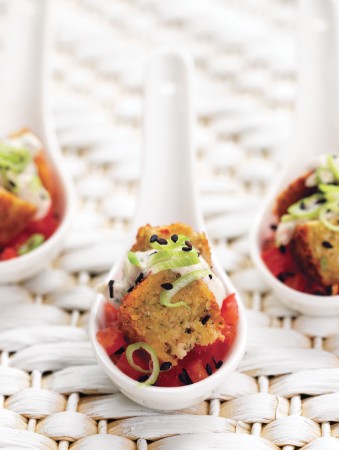 Sesame Falafel Spoons
Début de l'été 2010
BY: Marilyn Bentz-Crowley
These satisfying spoonfuls are welcome nibbles to all, including vegetarians. Health food stores carry frozen falafels or you can pick up a large package in the refrigerated case at a large box store such as Costco. Glossy black sesame seeds are available atAsian stores.
2 tbsp (25 mL) tahini
½ cup (125 mL) yogourt, preferably Balkan-style
1½ to 3 tsp (7 to 15 mL) lemon juice
¼ tsp (1 mL) salt
¼ tsp (1 mL) cayene pepper
1 tbsp (15 mL) finely chopped fresh mint
1 small garlic clove, minced
1 large green onion, thinly sliced and divided
12 frozen or fresh falafels, purchased or homemade
2 large plum tomatoes, seeded and finely diced
24 flat-bottom Chinese spoons
1 tsp (5 mL) black sesame seeds (optional)
1. For sauce, use a small whisk to stir tahini with about a third of the yogourt until smooth.Stir in remaining yogourt along with smaller amount of juice, salt, cayenne, mint, garlic and half of green onion. Taste and add remaining juice if needed. Cover and refrigerate until required, up to a day.

2. When ready to serve, heat falafels according to package or recipe directions. Cut each hot falafel into quarters.

3. Sprinkle tomato dice into spoon bowls in a single layer. Top with 2 falafel quarters; drizzle with yogourt sauce. Garnish with a pinch of remaining green onion slices and a few sesame seeds.
SHARE