Serrano-Wrapped Beef with Caramelized Shallot Sauce
Holiday 2015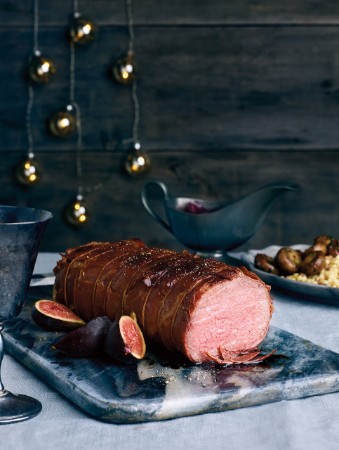 Serrano-Wrapped Beef with Caramelized Shallot Sauce
Holiday 2015
BY: Lucy Waverman
The paste for this beef is so full of umami flavour that you can use it to add to pasta, drizzle on eggs or over fish. You will find yourself making it time and again. Serve with fregola and sautéed mushrooms.
⅓ cup (80 mL) chopped anchovies
1½ cups (375 mL) grated Parmesan
¼ cup (60 mL) tomato paste
1/3 oz (10 g) dried porcini mushrooms
2 tbsp (30 mL) chopped garlic
2/3 cup (150 mL) olive oil
2 tbsp (30 mL) soy sauce
1 beef fillet, 3 lbs (1.5 kg)
8 slices serrano ham

SAUCE
1 tbsp (15 mL) butter
4 shallots, peeled and cut in 4 lengthwise
Pinch sugar
1 cup (250 mL) red wine
1 cup (250 mL) beef or chicken stock
2 tbsp (30 mL) cold butter
Salt and freshly ground pepper


1 Preheat oven to 425°F (220°C).

2 Pulse anchovies, Parmesan, tomato paste, mushrooms, garlic, olive oil and soy sauce together in a food processor until well combined and quite smooth.

3 Trim fillet and, if tied, untie it. Rub ¼ cup (60 mL) paste all over meat, reserving the remainder for another use. Lay serrano ham overlapping on parchment paper. Place the fillet on top and bring ham up to enclose. Tie roast to keep the serrano in place. Place on baking sheet or low-sided roasting pan and bake for 30 to 40 minutes or until meat is medium-rare (130°F/55°C on a meat thermometer). Remove to a carving board to rest for 10 minutes while making the sauce.

4 Melt butter over medium heat in a small heavy pot. Add shallots and sugar and sauté until they begin to caramelize, about 7 to 10 minutes. When they are a deep brown colour add red wine and reduce until ¼ cup (60 mL) remains, about 5 to 7 minutes. Add stock and reduce by half. Turn heat to low and swirl in cold butter. Sauce will thicken. Season with salt and pepper and serve with beef.

5 Slice meat into thin slices to serve.


SHARE