Seed-Crusted Tuna with Lima Beans, Corn & Pancetta
Autumn 2014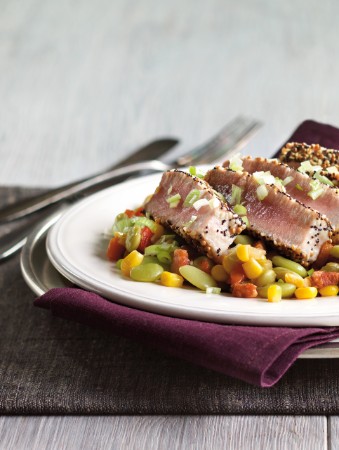 Seed-Crusted Tuna with Lima Beans, Corn & Pancetta
Autumn 2014
BY: Julia Aitken
Be sure not to overcook the tuna steaks for this easy but impressive dinner; they should still be coral-coloured in the centre so they remain tender and juicy. This recipe is adapted from The Wine Lover's Cookbook: Great Recipes for the Perfect Glass of Wine by Sid Goldstein (Chronicle Books).
1 sweet red pepper
2 tbsp (30 mL) olive oil, divided
4 oz (125 g) pancetta or bacon, diced
1½ cups (375 mL) homemade or low-sodium chicken or vegetable stock
3 tbsp (45 mL) minced shallot, about ½ large shallot
3 cups (750 mL) shelled fresh or frozen lima beans, about 1 lb (500 g)
¾ cup (175 mL) fresh or frozen and thawed corn kernels
Kosher salt and freshly ground black pepper
4 sushi-grade tuna steaks, 8 oz (250 g) each
2 tbsp (30 mL) sesame seeds
2 tbsp (30 mL) poppy seeds
2 tbsp (30 mL) yellow mustard seeds
Finely chopped green onions for garnish
1 Preheat broiler to high.

2 Cut pepper in half lengthwise and remove stem and seeds. Arrange, cut-side down, on a baking sheet. Broil about 3 inches (8 cm) from element until skin starts to blister and is blackened, 15 to 20 minutes.

3 Remove pepper from baking sheet and transfer to a heatproof bowl. Cover tightly with plastic wrap and let stand for 20 minutes.

4 Carefully peel skin from pepper, then dice pepper. Set aside.

5 In a medium saucepan, heat 1 tsp (5 mL) olive oil over medium heat. Add pancetta and cook, stirring often, until lightly browned,6 to 8 minutes. Drain pancetta, discarding fat. Spread pancetta out on a paper-towel-lined plate and set aside.

6 Add stock and shallot to saucepan and bring to a boil over high heat. Add lima beans and bring back to a boil. Boil, uncovered, stirring occasionally, until beans are just tender but not mushy, 12 to 15 minutes for fresh, 3 to 5 minutes for frozen (do not overcook).

7 Drain well, reserving stock. Return bean mixture to saucepan and stir in pancetta, corn, red pepper and enough of the reserved stock to moisten the mixture. Season to taste with salt and pepper. Keep warm until ready to serve.

8 Pat tuna steaks dry with paper towels. In a small bowl, stir together sesame, poppy and mustard seeds.

9 With your hands, coat tuna steaks all over with remaining oil. Season on both sides with salt and pepper to taste. Sprinkle seed mixture on both sides of tuna steaks to coat evenly.

10 Heat an oiled large, heavy skillet over high heat until very hot. Add tuna steaks to skillet and cook until seared on the outside but still rare on the inside, 1 to 2 minutes on each side.

11 Remove tuna steaks to a large cutting board and slice thinly crosswise. Divide lima bean mixture among 4 warm dinner plates and top evenly with tuna. Garnish with green onions.
SHARE