Seared Sea Bass with Date Salsa
Holiday 2017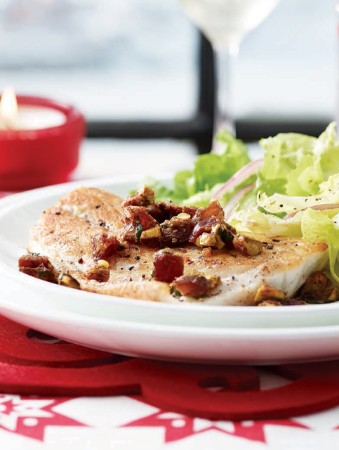 Seared Sea Bass with Date Salsa
Holiday 2017
BY: Lucy Waverman
Mediterranean sea bass or snapper works well for this recipe but the skin must be retained. The fragrant date salsa gives an exotic touch to the fish. Scrape the fish skin with the back of a knife to make sure it is dry enough to sear properly.
DATE SALSA
1 cup (250 mL) chopped dates
½ cup (125 mL) chopped pistachios
¼ cup (60 mL) freshly squeezed orange juice
2 tbsp (30 mL) slivered mint
1 tbsp (15 mL) minced shallot
1 tsp (5 mL) grated orange zest
½ tsp (2 mL) ground allspice
½ tsp (2 mL) cinnamon
½ tsp (2 mL) ground pepper
¼ tsp (1 mL) ground cardamom
¼ tsp (1 mL) ground ginger
Pinch chili flakes
Salt to taste
4 sea bass fillets, each 6 oz (175 g)
Salt and freshly ground pepper
2 tbsp (30 mL) olive oil
1. Combine dates, pistachios, orange juice, mint, shallot, orange zest, allspice, cinnamon, pepper, cardamom, ginger and chili flakes. Add salt to taste. Set aside.

2. Pat bass fillets dry with paper towel, season with salt and pepper. Heat a nonstick skillet over high heat. Add oil and heat until simmering. Add bass fillets, skin-side down and fry until golden and crisp, about 1½ to 2 minutes. Flip gently and fry on second side until just cooked and golden, about 1 minute. Fish should look translucent.

3. Top fish with salsa and serve with Escarole Salad (recipe follows).
ESCAROLE SALAD

The vinaigrette can be made a day ahead of time and stored in the refrigerator. Take it out half an hour before using, as the vinaigrette will solidify when chilled.

VINAIGRETTE
1 tsp (5 mL) Dijon mustard
2 tbsp (30 mL) white wine vinegar
⅓ cup (80 mL) olive oil
Salt and freshly ground pepper
½ cup (125 mL) thinly sliced red onion
Salt to taste
8 cups (2 L) escarole lettuce, broken into pieces
1. Whisk together mustard and vinegar. Slowly whisk in oil until mixture thickens. Season with salt and pepper.

2. Toss onions with a sprinkling of salt and leave for 5 minutes. Toss lettuce and onions with vinaigrette and serve at once.
SHARE