Seared Scallops with Red Beet Carpaccio, Orange Crisp, Orange & Ginger Glaze
Hiver 2010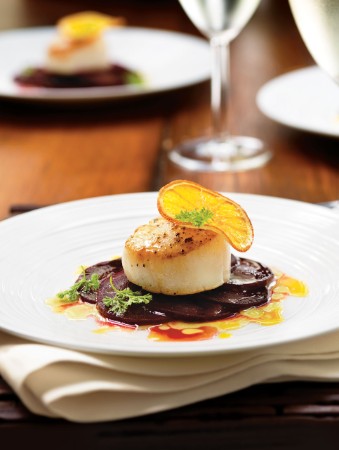 Seared Scallops with Red Beet Carpaccio, Orange Crisp, Orange & Ginger Glaze
Hiver 2010
Deff Haupt
RENOIR, Montreal

For Food & Drink, Deff Haupt has adapted the recipe that took him to the podium at Montreal's Gold Medal Plates event. Freeze the orange to make it easier to thinly slice. The dried orange looks spectacular topping the dish. The orange crisps, beets and glaze can be made ahead of time; only the scallop needs to be fried at the end.
Orange Crisp
1 orange, frozen until solid and very thinly sliced
1 tbsp (15 mL) icing sugar

Glaze
2 cups (500 mL) fresh orange juice
3 tbsp (45 mL) coarsely chopped ginger
2 tbsp (25 mL) sugar

Beets & Scallops
2 cups (500 mL) water
½ cup (125 mL) red wine vinegar
½ tsp (2 mL) salt
1 large red beet or 2 smaller ones
4 large scallops (U/10 size)
Salt and freshly ground pepper
1 tbsp (15 mL) olive oil

Garnish
1 tbsp (15 mL) red wine vinegar
1 tbsp (15 mL) extra virgin olive oil
Sea salt for sprinkling
2 tbsp (25 mL) chervil sprigs
1. Preheat oven to 175°F (80°C).

2. Place sliced oranges in a single layer on a parchment-paper-lined baking sheet and sprinkle with icing sugar. Bake for 1 hour, flip over then bake another 2 hours or until oranges are dry and crisp.

3. Heat orange juice, ginger and sugar in a pot over medium-high heat and bring to boil. Let reduce for 15 to 20 minutes or until syrupy. Strain through a fine sieve. Chill until needed.

4. Combine water, vinegar and salt in a pot over medium-high heat and bring to boil. Reduce heat to medium, add beet, cover and cook for 30 to 40 minutes or until beet is tender, adding extra water to pot if necessary. Let cool. When beet is cold, peel and use a mandolin or sharp knife to very thinly slice.

5. Rewarm glaze while scallops are cooking. Season scallops with salt and pepper on both sides. Heat oil in a nonstick pan over high heat. Place scallops in pan and sear for 2 minutes a side or until golden brown and just cooked.

6. Divide beet slices between 4 serving plates and layer, slightly overlapping. Drizzle with red wine vinegar and extra virgin oil and sprinkle with sea salt. Place a warm scallop in the middle of the plate. Top with an orange crisp and drizzle with orange ginger glaze. Garnish with chervil sprigs.
SHARE