Seared Scallops with Bacon & Green Onion Relish
Temps des Fêtes 2014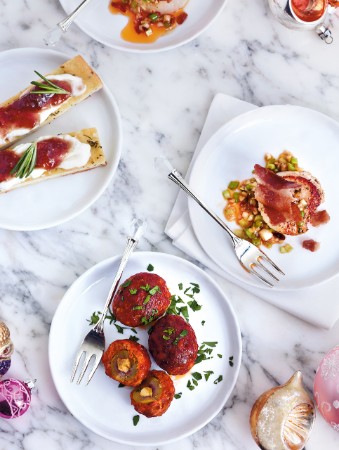 Seared Scallops with Bacon & Green Onion Relish
Temps des Fêtes 2014
BY: Christopher St. Onge
If you have access to a Chinese grocer, purchase chili oil with chili flakes included in the mix, or even better, Lao Gan Ma brand, which includes Sichuan peppercorns too—it's delicious on just about everything and adds an intriguing depth to the relish. Otherwise, LeeKum Kee brand, available at most grocers, will do.
2 cloves finely chopped garlic
4 green onions, finely chopped
¼ tsp (1 mL) salt
2 tsp (10 mL) red wine vinegar
1 tsp (5 mL) Japanese soy
¼ cup (60 mL) peanut oil, divided
1 to 2 tsp (5 to 10 mL) chili oil
2 slices reduced-sodium bacon
12 large, dry-pack scallops, each about
1¼-inches across (3 cm)
Freshly ground pepper
1 In a small non-reactive bowl, combine garlic, green onions and salt; allow to rest at room temperature for 30 minutes. Stir in red wine vinegar, soy, 2 tbsp (30 mL) peanut oil and chili oil (use the lesser amount if mild heat is desired, or the greater amount for more spice); set aside. (Relish will keep for up to 2 days, refrigerated. Return to room temperature before serving.)

2 Fry bacon in a dry heavy skillet over medium heat until crisp, about 5 minutes. Remove to a paper-towel-lined plate; when cool enough to handle, break each slice into 6 pieces.

3 Season scallops with salt and pepper to taste. Wipe pan clean and heat 1 tbsp (15 mL) peanut oil over medium-high. Working in batches of 6, cook scallops for 90 seconds per side, or until golden crust forms, refreshing oil between batches if necessary.

4 Arrange single scallops on small hors d'oeuvre plates, top each with a generous teaspoon of relish and a piece of bacon. Serve hot.
SHARE