Seared Scallops With Whisky-Mushroom Sauce
Autumn 2008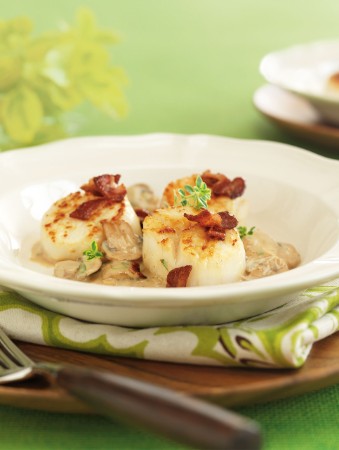 Seared Scallops With Whisky-Mushroom Sauce
Autumn 2008
BY: Julia Aitken
The sweet vanilla notes of a good Canadian rye make it a surprisingly good fit with seafood. Here, whisky adds character and depth to a thyme-flecked mushroom sauce teamed with juicy scallops
1 tbsp (15 mL) vegetable oil
4 slices bacon, finely diced
2 cups (500 mL) finely chopped cremini mushrooms (about 6 oz/175 g)
1 small clove garlic, minced
12 large scallops
Black pepper
2 tbsp (25 mL) lemon juice
¼ cup (50 mL) Canadian whisky
1 cup (250 mL) low-sodium chicken stock
¼ cup (50 mL) whipping cream
1 tsp (5 mL) finely chopped thyme leaves
Salt
Thyme sprigs
1. In a skillet large enough to hold the scallops in 1 layer, heat oil over medium heat. Add bacon; cook, stirring occasionally, for 5 to 7 minutes until crisp. With a slotted spoon, remove bacon to a paper-towel-lined plate. Pour fat from skillet into a small bowl; set aside. Set skillet aside but do not wash.

2. In a separate medium skillet, heat 1 tbsp (15 mL) reserved fat over medium-high heat. Add mushrooms; cook, stirring often, for 5 to 7 minutes, until softened and browned. Stir in garlic; cook, stirring, for 30 seconds. Remove from the heat; set aside in skillet.

3. Rinse scallops; pat as dry as possible with paper towels. Season with pepper. In the large skillet you used to cook the bacon, heat 2 tbsp (25 mL) reserved fat over medium-high heat. Add scallops in a single layer; cook, without moving them, for 2 minutes. Turn scallops over; drizzle with lemon juice. Cook for a further 1 to 2 minutes until seared and the juices are starting to caramelize on base of skillet, adjusting heat so juices do not burn. Remove scallops to a plate; keep warm.

4. Add whisky to large skillet; boil for about 1 minute, stirring to scrape up browned bits from bottom of skillet, until liquid is syrupy. Add stock; bring to a boil over high heat. Boil for 2 to 3 minutes, until liquid is reduced to about ¾ cup (175 mL). Strain into skillet containing mushrooms; stir in cream and any juices that have accumulated under scallops. Simmer for 2 to 3 minutes until sauce thickens slightly; stir in thyme. Season to taste with salt and more pepper if needed. Divide sauce among 4 shallow bowls; top each portion with 3 scallops. Sprinkle with bacon; garnish with thyme.
SHARE