Seared Pork Chops with Sautéed Peaches & Rosemary-Infused Honey
Automne 2013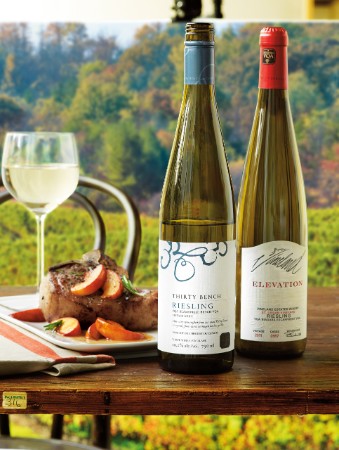 Seared Pork Chops with Sautéed Peaches & Rosemary-Infused Honey
Automne 2013
BY: Tonia Wilson-Vuksanovic
Purchase peaches that are not overly ripe so that they will hold their shape and not become too soft when cooked.
½ cup (125 mL) honey
1 tbsp (15 mL) rosemary leaves, coarsely chopped
1 tbsp (15 mL) unsalted butter
2 cups (500 mL) peaches, about 2 peaches, sliced thinly
½ tsp (2 mL) brown sugar
½ tsp (2 mL) lemon juice
1 tbsp (15 mL) olive oil
4 thick-cut pork loin chops, bone-in, about 2 inches (5 cm) thick
Salt and freshly ground pepper to taste
1 Preheat oven to 300°F (150°C).

2 In a small bowl, microwave the honey until quite warm, about 40 seconds. Do not let boil. Stir in rosemary and set aside for at least 1 hour and no longer than 2 hours. Strain, add a few new leaves for garnish and set aside until ready to use.

3 In a medium sauté pan, heat butter over medium until lightly browned. Add peach slices, brown sugar and lemon juice. Cook until softened, but not until mushy, about 5 to 6 minutes depending on ripeness. Set aside.

4 In a large ovenproof pan, heat oil over medium-high, season chops generously with salt and pepper and sear until well browned, about 4 to 5 minutes on each side. Place in preheated oven and cook until internal temperature reaches 160°F (70°C).

5 When finished, top with warm peaches and drizzle with honey. If honey is too thick to drizzle, pop into microwave for a few seconds.
SHARE