Seared Lamb Chops & Pearl Onions with Mashed Peas & Mint Tahini
Hiver 2018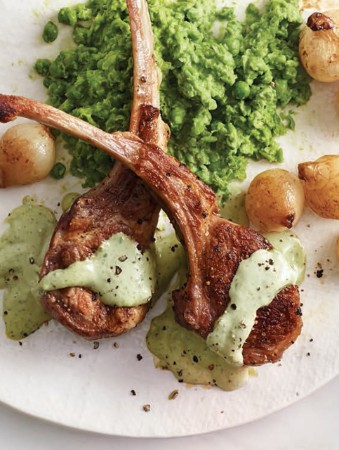 Seared Lamb Chops & Pearl Onions with Mashed Peas & Mint Tahini
Hiver 2018
BY: Amy Rosen
Lamb and mint are a perfect pairing, but so too are peas and pearl onions. Add tahini to the mix, and the gang's all here! A vibrant plate to perk up any mid-winter meal, and the minted tahini is superb on the juicy lamb chops. Use rib, loin or shoulder chops for this recipe.
LAMB & ONIONS
8 lamb chops, about 1½ lbs (750 g)
2 tbsp (30 mL) olive oil
2 cloves garlic, sliced
2 bags, each 10 oz (300 g), pearl onions

MINT-TAHINI SAUCE
½ cup (125 mL) tahini, well stirred
¼ cup (60 mL) water
Juice of ½ a lemon
1 garlic clove, chopped
1 bunch mint, about ½ cup (125 mL)
Salt and pepper to taste

MASHED PEAS
4 cups (1 L) frozen petite peas
½ cup (125 mL) full-fat (14%) sour cream
Salt and pepper to taste
Sea salt and freshly cracked black pepper to taste
1 tbsp (15 mL) butter
⅓ cup (80 mL) water
1 tsp (5 mL) sugar
Juice of half a lemon
1. Marinate lamb in olive oil and garlic on the counter for 30 minutes, turning halfway through. To peel pearl onions, trim the ends and drop in a pot of boiling water for less than a minute. Drain in a colander and rinse with cold water. The peels should pop off.

2. For sauce, add tahini, water, lemon juice, garlic and mint leaves to a blender. Purée until smooth. Season and taste. Cover and set aside.

3. Microwave or boil peas until tender and sweet,2 to 3 minutes. Drain and add to a medium bowl, stirring in sour cream, salt and pepper. Using an immersion blender, pulse a few times. Cover and set aside.

4. Preheat a grill pan or large skillet to medium-high heat. Season lamb well on both sides and cook for 3 to 4 minutes on each side, depending on the size of your chops. Cooking them to medium-rare is preferred (slightly pink in the middle). Remove to a plate and tent with foil. Meanwhile, add butter and onions to the same grill pan or skillet, and sauté for 5 minutes until they start to caramelize. Add water and sugar and cook, uncovered for 5 to 7 minutes more, or until onions are tender and golden. Season with salt and pepper and a squeeze of lemon.

5. Place a mound of mashed peas on each plate, top with 2 lamp chops and caramelized onions, and spoon over mint tahini sauce. Serve at once.
SHARE