Seared Halibut with Summer Squash and Corn Cioppino
Été 2005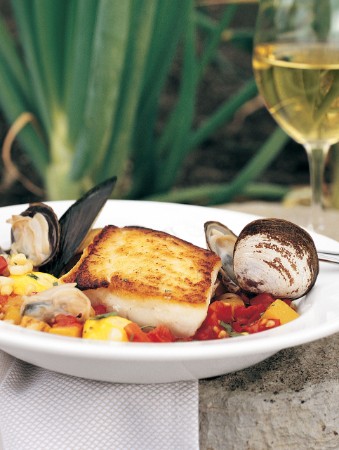 Seared Halibut with Summer Squash and Corn Cioppino
Été 2005
BY: Lucy Waverman
Use yellow and green zucchini, pattypans or other summer squash. The halibut sits on top of a rich brothy bed of vegetables.
2 tbsp (25 mL) extra virgin olive oil
8 shallots or other small onions, cut in half
2 cups (500 mL) diced summer squash
1 cup (250 mL) shucked corn
1very ripe tomato, diced
12 fresh clams
12 fresh mussels
2/3 cup (150 mL) fish stock
¼ cup (50 mL) Chardonnay
¼ cup (50 mL) chopped cilantro
Four 6 oz (175 g) portions of halibut
Extra-virgin olive oil for garnish
Sea salt
1. Pour the olive oil in a large pot, over medium heat. Add the onions and slowly cook for 2 minutes - avoid any colouring.

2. Add the diced squash, corn and tomato and sauté for 5 minutes or until tender-crisp, stirring often.

3. Add the clams, mussels, fish stock and Chardonnay. Place a lid overtop the pot and cook until the shellfish open (about 5 minutes).

4. Add the chopped cilantro and keep warm while cooking the halibut.

5. Sear the halibut in a nonstick or well-seasoned pan until golden and just cooked, about 3 minutes per side.

6. Divide the shellfish soup between 4 bowls.

7. Place the halibut on top and drizzle with olive oil and sea salt.
SHARE