Seared Duck Breasts with Sour Cherry Sauce
Winter 2014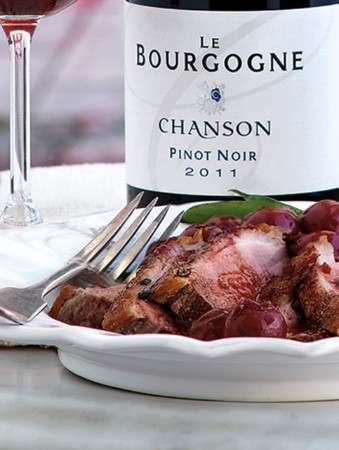 Seared Duck Breasts with Sour Cherry Sauce
Winter 2014
BY: Julia Aitken
This lovely classic dish is the perfect main for an intimate winter dinner. On no account ditch the leftover duck fat—save it to make the best roast potatoes you'll ever taste.
2 large boneless duck breasts with skin, each 13 oz (390 g)
Kosher salt and freshly ground black pepper
2 tsp (10 mL) finely chopped thyme leaves
5 tbsp (75 mL) cherry preserves
¼ cup (60 mL) minced shallots
1 cup (250 mL) drained pitted sour cherries
½ cup (125 mL) good-quality red wine vinegar
1 whole clove
Fresh thyme sprigs for garnish
1 Preheat oven to 400°F (200°C).

2 With a sharp knife, cut a cross-hatch pattern in skin and fat of duck breasts. Sprinkle duck breasts on both sides with salt and pepper.

3 Heat a heavy, non-reactive ovenproof skillet over high heat. Place duck breasts in skillet,skin-side down, and reduce temperature to medium-high. Cook until skin is golden, 2 to 3 minutes. Turn duck breasts over.

4 Sprinkle skin with 1 tsp (5 mL) thyme. Cook for a further 2 minutes. Drain off all fat from skillet and reserve. Transfer skillet to oven and roast duck breasts, skin-side up, until a meat thermometer inserted into thickest part of breasts registers 135°F (57°C) for medium-rare, about 8 minutes.

5 Meanwhile, microwave 1 tbsp (15 mL) cherry preserves in a microwave-safe bowl on medium(50%) power until melted, about 15 seconds.Remove duck breasts to a plate, brush skin with melted preserves. Cover duck breasts loosely with foil and let rest for 10 minutes.

6 Meanwhile, pour off all but 1 tbsp (15 mL)fat from skillet or, if there's less than 1 tbsp(15 mL) fat in skillet, add a little of the reserved fat. Add shallots to skillet and cook over medium heat until softened, 2 to 3 minutes.Add sour cherries, vinegar and clove to skillet and bring to a boil over medium-high heat, stirring to scrape up any browned bits from bottom of skillet. Boil until vinegar has reduced by about half, about 2 minutes.

7 Add remaining preserves and thyme, plus any juices that have accumulated under duck, to skillet and bring to a simmer, stirring to melt preserves. Discard clove, then taste and add more salt and pepper if necessary.

8 Cut duck breasts crosswise into thin slices and arrange on a warm serving platter. Spoon cherries around duck and drizzle sauce over and around duck. Garnish with thyme sprigs.
SHARE