Seared Chili-Rubbed Sirloin with Southwestern Chili Sauce
Holiday 2008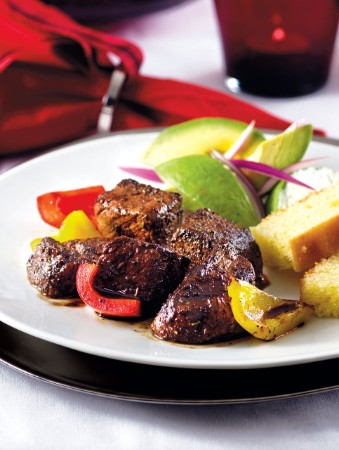 Seared Chili-Rubbed Sirloin with Southwestern Chili Sauce
Holiday 2008
BY: Lucy Waverman
Serve beef with cornbread and an avocado, red onion salad. If pure chili powder is not available then use regular chili powder but omit the cumin. The beef can be seared ahead of time and the sauce finished until the butter step. Bake the beef, reheat the sauce and beat in butter. This makes the dish excellent for entertaining.
Chili Rub

2 tbsp (25 mL) pure ancho chili powder
2 tsp (10 mL) ground cumin
2 tsp (10 mL) dried oregano
1 tsp (5 mL) dry mustard
Kosher salt to taste
½ tsp (2 mL) freshly ground pepper

Beef

2 lb (1 kg) beef sirloin steak, cut in 2-inch (5-cm) pieces

2 tbsp (25 mL) olive oil
1 red pepper, cut in 1-inch (2.5-cm) dice
1 yellow pepper, cut in 1-inch (2.5-cm) dice

Sauce

¼ cup (50 mL) balsamic vinegar
¼ cup (50 mL) red wine
1 tsp (5 mL) of honey
2 tbsp (25 mL) light soy sauce
2 cups (500 mL) beef stock
¼ cup (50 mL) cold unsalted butter, cut in chunks
Salt and freshly ground pepper
1. Preheat oven to 450ºF (230ºC).

2. Combine chili powder, cumin, oregano, mustard, kosher salt and pepper in a small bowl. Sprinkle 2 tbsp (25 mL) of rub over sirloin cubes (reserving remainder). Season meat with salt.

3. Heat oil in a large skillet over medium-high heat. Add beef (in batches if necessary) and brown well on each side, about 1 minute per side (no more than 5 minutes total). Remove beef to a metal baking pan but do not crowd meat. Use a baking sheet if necessary. Add red and yellow peppers into skillet and sauté until peppers are slightly browned and slightly softened. Add to beef. Reserve skillet, and bake beef and peppers for 5 to 6 minutes or until meat is medium rare and peppers are softened.

4. Drain any fat from skillet and heat over medium heat. Add balsamic vinegar, red wine and remaining chili rub. Bring to boil and cook until reduced by half, about 2 minutes. Add honey, soy sauce and beef stock, turn heat to high, and bring back to a boil. Boil until slightly thickened, about 10 minutes. Add any juices from meat. Remove from heat and beat in butter. Season with salt and pepper to taste. Toss sauce with beef and peppers to reheat.
SHARE