Seared Beef Tenderloin with Porcini-Pinot Noir Broth, Crispy Potato Sticks & Green Herb Aïoli
Autumn 2013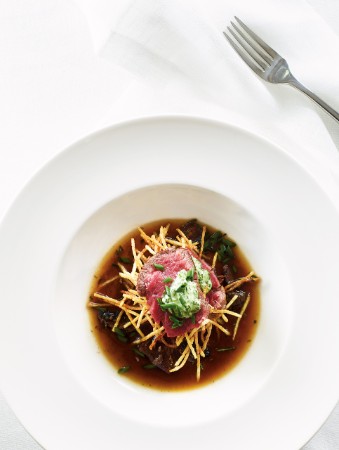 Seared Beef Tenderloin with Porcini-Pinot Noir Broth, Crispy Potato Sticks & Green Herb Aïoli
Autumn 2013
BY: Jamie Stunt, Oz Kafé
At Oz Kafé in Ottawa, Jamie Stunt uses smoked salt to season the crispy potato sticks that garnish this hearty appetizer, but that was just one ingredient too many for our challenge!
GREEN HERB AÏOLI
½ cup (125 mL) loosely packed Italian parsley leaves
½ cup (125 mL) loosely packed basil leaves
½ cup (125 mL) coarsely chopped chives
½ cup (125 mL) mayonnaise
1 clove garlic, minced
Kosher salt to taste
CRISPY POTATO STICKS

1 large Yukon gold potato
2 tbsp (30 mL) rosemary leaves
Canola oil for deep-frying
Kosher salt to taste

PORCINI-PINOT NOIR BROTH
½ tbsp (7 mL) canola oil
1 clove garlic, minced
1 tsp (5 mL) finely chopped rosemary leaves
Pinch of kosher salt
½ cup (125 mL) Ontario Pinot Noir
1½ cups (375 mL) beef stock, preferably homemade dark stock made from roasted bones
1 cup (250 mL) loosely packed dried porcini mushrooms, rinsed and drained, about ¾ oz (22 g)

SEARED BEEF TENDERLOIN
6 oz (175 g) piece beef tenderloin, cut from thinner end of tenderloin
Kosher salt and freshly ground black pepper to taste
1 tbsp (15 mL) canola oil
Finely chopped chives
1 To make the green herb aïoli, mince parsley, basil and chives in a mini-chop. Add mayonnaise and garlic and process until well combined. Season with salt to taste. Refrigerate for up to 5 days or until ready to serve.

2 To make the crispy potato sticks, peel potato, then cut lengthwise into very thin matchsticks using fine julienne blade on a mandoline slicer (strips should be as fine as linguine). Immediately plunge potato sticks into a bowl of ice water and let soak for 5 minutes, agitating water occasionally. Drain well and dry thoroughly between kitchen towels. Sprinkle potato sticks with rosemary leaves.

3 Heat oil in a large, deep saucepan to 360°F (185°C).

4 Fry potato-rosemary mixture, in batches, until crispy and golden brown, about 1 minute. Remove with a slotted spoon and drain on paper towels, seasoning each batch immediately with salt. Set aside at room temperature for up to 4 hours or until ready to serve.

5 Just before serving, make porcini-Pinot Noir broth. Heat oil in a medium saucepan over medium-low heat. Add garlic, rosemary and salt. Cook, stirring often, until fragrant, about 1 minute.

6 Add wine and bring to a boil over medium-high heat, stirring to scrape any browned bits from bottom of saucepan. Boil until wine has reduced by half, 2 to 3 minutes.

7 Add stock and porcini mushrooms and bring to a boil. Reduce heat to medium-low and simmer, uncovered, until broth is fragrant and mushrooms are softened, about 10 minutes. Season with salt to taste. Keep warm until ready to serve.

8 Meanwhile, make the seared beef tenderloin. Heat a cast iron skillet over very high heat. Season beef generously on all sides with salt and pepper.

9 Add oil to skillet and, when oil begins to ripple, add beef. Sear beef on all sides until well browned and caramelized, 2 to 3 minutes. (Beef should still be very rare.)

10 To serve, thinly slice beef tenderloin across the grain and sprinkle lightly with salt to taste.

11 Using a slotted spoon, divide porcini mushrooms among 4 wide bowls, arranging them in a pile in centre. Top each pile of porcini with some potato sticks, a slice of beef and a little aïoli. Repeat with more potato sticks, beef and aïoli, using 3 or 4 slices of beef per bowl, until beef is used up. Ladle broth around ingredients in each bowl, dividing evenly. Dab broth with a little more aioli and sprinkle with chives.
SHARE