Seared Beef & Spinach Panzanella Salad with Feta Dressing
Early Summer 2016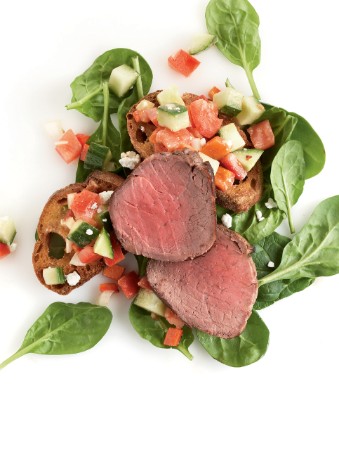 Seared Beef & Spinach Panzanella Salad with Feta Dressing
Early Summer 2016
BY: Tonia Wilson-Vuksanovic
This hearty salad is a meal on its own. Add some tiramisu or gelato for dessert and the menu is complete.
2 lbs (1 kg) beef tenderloin
Salt and freshly ground black pepper
¼ cup (60 mL) plus 2 tbsp (30 mL) olive oil
12 slices of baguette, about ¾ inch (2 cm) thick
1 tsp (5 mL) Dijon mustard
1 tbsp (15 mL) white or red wine vinegar
⅓ cup (80 mL) good-quality feta
2½ cups (625 mL) plum tomatoes, diced
2½ cups (625 mL) English cucumber, diced
½ cup (125 mL) roasted peppers from a jar, drained and finely diced
¼ cup (60 mL) white onion, i.e. Vidalia or Spanish, finely diced
6 cups (1.5 L) baby spinach, washed
1 Preheat oven to 400°F (200°C).

2 Season beef generously with salt and pepper.

3 In an ovenproof skillet, heat 1 tbsp (15 mL) oil over medium-high heat. Sear beef to brown on all sides, about 2 minutes a side.

4 Place beef in oven and continuing cooking to medium-rare (130°F/55°C), about 22 to 25 minutes depending on thickness of meat. Remove from oven and let rest 10 minutes before slicing into 12 equal slices.

5 Meanwhile, in a large skillet, heat 1 tbsp (15 mL) oil over medium heat. Working in batches, cook the baguette slices 2 minutes on each side until golden, adding more oil if necessary. Set aside.

6 In a large bowl, whisk together ¼ cup (60 mL) oil, mustard and vinegar. Add feta and break up into small pieces with a fork.

7 Add to the bowl the tomatoes, cucumber, peppers and onion. Stir together and season generously with salt and pepper to taste. Add any beef juice to the bowl.

8 Place 1 cup (250 mL) spinach on each of 6 plates. Top spinach with 2 baguette slices and divide salad mixture evenly between plates. Top each salad with 2 slices of beef and serve.
SHARE